Gamergy
Race to the eShop now!
Late last year Mario Kart 8 got its first pack of DLC and now the second pack is available as well, but how good are they? Are you still debating whether to get these packs or not? Maybe this inside look will give you an idea. In this A look at DLC I'll be covering mostly the courses; the vehicle customizations aren't worth mentioning about much since they're not that big of a deal. I'll be giving a rating of the following from best to worst:
-Awesome
-Good
-Just Ok
-Mediocre
-Bad
I'll be breaking down the tracks one-by-one with my opinions on it. Please note I may be a bit harsh on some of the tracks; I don't actually hate any of them, I just thought some were a bit stale and some were just not as good as the others.
PACK ONE
Egg Cup
Yoshi Circuit (GCN)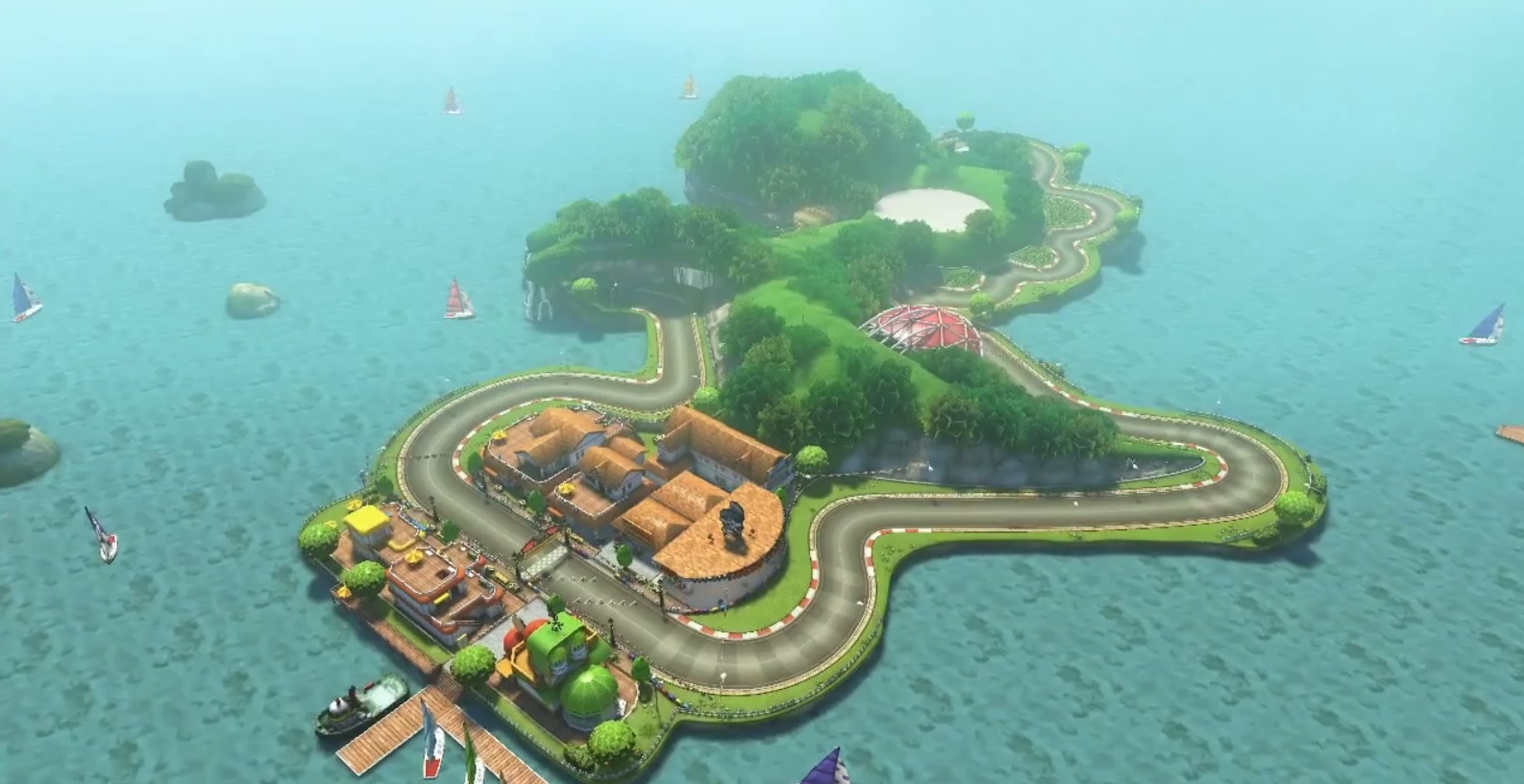 One of the retro tracks remade for Mario Kart 8, Yoshi Circuit is a fun track, but will cause problems for any racer whose vehicle has bad turning. Part of the track has a zig-zag that rivals, and possibly tops Rainbow Road in levels of frustration of falling off the track. Luckily there is no ledge on this part, you'll just end up in grass. Plus, the track is in the shape of a Yoshi!
Rating: Good
Excitebike Arena
This has to be one of the most popular tracks in the Mario Kart 8 DLC, as it gets picked a lot when I race online. Why this track is picked constantly is clear; big jumps and big air are all around this course, which makes it a great track alone. It also has a nice remix of the original Excitebike theme. If you're a fan of big jumps then you will love this track.
Rating: Awesome
Dragon Driftway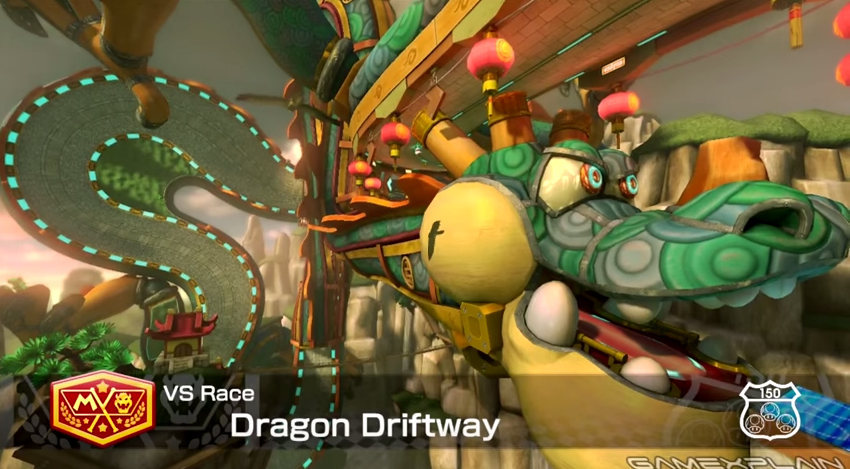 Now we get to the obligatory mediocre track, Dragon Driftway. I can't tell you much about this track, as not much of it is all that memorable. Maybe I was just expecting more from a track with a great as name as Dragon Driftway, but this is my least favorite track in the Egg Cup
Rating: Mediocre
Mute City
There's something funny about Mute City for me, I always do terrible on this track but
I still love it
from the constant speed boosters to the unique style of earning coins from driving over certain parts of the track, Mute City is a great course. If you're an F-zero fan this track may be enough to convince you to buy the DLC.
Rating: Awesome

Triforce Cup
Wario's Gold Mine (Wii)
I absolutely hated this course in Mario Kart Wii; the mine carts would constantly run into me and I lost many races because of it. However in the Mario Kart 8 remaster of Wario's Gold Mine is much better, considering if you hit a cart you'll just get a speed boost. I'm still not a big fan of the course, it's not entirely exciting, but at least it's not broken like the Wii version.
Rating: Just Ok
Rainbow Road (SNES)
It's been my opinion that Super Mario Kart's Rainbow Road was the weakest of them all, but in this remaster Nintendo improved the track to where it's more fun. Almost all the additions were just a few Thwomps, but that makes all the difference. So instead of long, boring straightaways you'll have to avoid obstacles, which freshen up the course. Rainbow Road SNES can also be a very hard track unless you've got turning and drifting down really well, but the same goes with the other two Rainbow Road courses in Mario kart 8 as well.
Rating: Good
Ice Ice Outpost
Once again, the obligatory mediocre track in this cup, Ice Ice Outpost is pretty bland; the only cool thing about this track is that a majority of the track can be experienced in two routes, just like sweet sweet canyon (which I didn't like much either) Although it may just be the pale colors of the track that makes me dislike it.
Rating: Mediocre
Hyrule Circuit
Ah, the awesome course that every Zelda fan will love. The race starts immediately with a new version of the main theme of the Zelda series. Not only that but the coins are now rupees, and you can race though the temple of time and see the master sword in person, and fly through it off of a ramp! Even if you're not a huge Zelda fan this is a fun track with great music.
Rating: Awesome

PACK 2
Crossing Cup
Baby Park (GCN)
The shortest track to ever show up in a Mario Kart game appears again, in its traditional seven laps. Baby Park is a very simple track; it's just an oval. "But what could possibly be exciting about this track?" Well, it's the items. With twelve racers on such a small track the items are constantly affecting the racers, with shells, bananas and bullet bills everywhere, it's the chaos that makes this track fun. The music is really nice too
Rating: good
Cheese Land (GBA)
If you've ever wanted to race on a gigantic piece of cheese, this is the track for you. However I found Cheese Land a bit disappointing, the coloring of everything is fantastic, but the track itself didn't feel all that exciting. It's not a bad track, just not among my favorites in this DLC
Rating: Just ok
Wild Woods
Now why does it seem like I dislike every third track in each cup? Yes, you guessed it; I'm not a big fan of Wild Woods. It really feels like a Donkey Kong Country level, which isn't bad but I've never been a fan of jungle levels in Mario Kart. However if you like jungle levels, you will probably like Wild Woods.
Rating: Just ok
Animal Crossing
Ok, this is when fanboy bias comes into play. I've always been a huge Animal Crossing fan, and this track is a love letter to the franchise. There are four different versions of the track, one for each season. Each season a different variation of the same music will play, and the course will alter based on the seasons. You get a little of everything in Animal Crossing in this track, the beach, the fruit trees, and the houses are all viewable in this track. This track keeps me hopeful that we will see an Animal Crossing Wii U at E3 this year.
Rating: Awesome

Bell Cup
Neo Bowser City (3DS)
Another track that is constantly picked online, but I'm not sure why. I love the city in the background but Neo Bowser City felt way too similar to Mario Kart Stadium in terms of the track itself. I do like Mario kart Stadium but Neo Bowser City feels a bit of a downgrade of Mario kart Stadium. Playing this track on 200cc, however, is a real treat (by that I mean very hard)
Rating: Just Ok
Ribbon Road (GBA)
This was always a fun track in Mario Kart: Super Circuit; I loved the color and playful scenery included in Ribbon Road, and the revival of it in Mario Kart 8 delivers. The colorful scenery and endless amounts of giant toy objects make this a very pretty track to look at while racing. I think the scenery sells this track more than anything else, and I've heard there are Easter eggs all over the track's background, so see if you can find them.
Rating: Good
Super Bell Subway
Guess what? I don't like this third track in a Mario Kart 8 DLC cup either! There are two things that really bug me about Super Bell Subway; first, the driving area is a little too wide. In fact, the only problem you should have is avoiding the subway. Oh, and that's my other point. The subway will ruin your race; I refer to how I hated Wario's Gold Mine because I kept getting hit by mine carts. I understand that the wide areas are for avoiding the subway, but if you're on the wrong side of the track when a subway approaches you're left with a very narrow spot to ride on, and unless you're skilled at turning, you will get hit by the subway train. It's just a frustrating track.
Rating: Bad
Big Blue
Yet another F-Zero track, could Nintendo be hinting at something? Big Blue, like Mute City, doesn't disappoint. This is one of those three-section tracks, and it's a ton of fun. A lot of the Anti-gravity is used in Big Blue, and it's used well. The music is wonderful, a modern version of F-Zero's Big Blue track. Once again, if you're an F-Zero fan you can't miss this track. It's the closest you'll get to an F-zero game at this time.
Rating: Awesome
Now with all of that covered, you might have a good idea of what the tracks are like. As for the characters, if you want to race as Link, Cat Peach, or Tanooki Mario, those are in pack one. If you want to race as either Villager (male or female) Isabelle, or Dry Bowser, those are in pack two. As I said the vehicle customizations are not a big deal and there's not much to say on them, so I won't cover them.
Also, I can't stress enough the disclaimer at the beginning; this is a very critical review of the tracks. The ones that are just ok or higher rank are very fun to me, while the ones below that rank I more just feel indifferent about. Why? Because I couldn't write a review just saying everything was awesome, because some really were better than others and I needed to clarify that somehow instead of giving every track a "good" or "awesome" so I divided them into classes based on how good the tracks are compared to others.
Overall I can't recommend the Mario Kart DLC enough. You're getting a bunch of new content for a great price. It's a nice way to keep Mario Kart fresh and to keep the online community active.
Recommended if: You play Mario Kart 8 even semi-often or are wanting a reason to pick up Mario kart 8 againNot recommended if: There's really no reason to not get it unless you can't afford it
Permissions in this forum:
You
cannot
reply to topics in this forum