Towafan7

Admin

Zen Storytelling!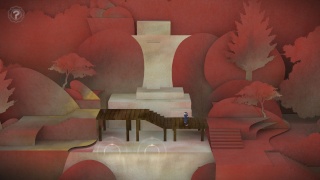 Developed and Published by Nyamyam Studios Tengami is a point and click adventure that takes place in a Japanese pop-up book and is not only unique, but is also very atmospheric! The game is fully controlled by the Wii U Gamepad's touch controls and it feels flawless! The game has many puzzles to solve and some can be quite mind-bending in nature. The story of the game unfolds visually as it would in a pop-up book and the visuals are incredibly pleasing to look at!
The game is quite short in length for its price, but it does offer a unique experience that no other current eshop title can! The music has been composed by the legendary David Wise formerly associated with RARE Studios! The instrumental soundtrack is amazing and fits the game perfectly which is great for a game like Tengami!
The game isn't without faults as some puzzles are almost too difficult, however given the game's length the difficult nature of the puzzles was necessary to artificially increase the amount of time it takes to complete the game.
Bottom-Line:
With gorgeous graphics, atmospheric music composed by the legendary David Wise, and flawless controls Tengami is an absolutely gorgeous and enjoyable experience for the Wii U, however the game's short length and challenging puzzles can be off-putting. Regardless the game is a very unique experience and we definitely recommend giving this game a chance as a part of your Wii U library!
Price: £6.99/€7.99/$9.99

Score:

★★★★★★★★☆☆ 8.5/10
Permissions in this forum:
You
cannot
reply to topics in this forum