Pyrafan7

Admin

The Power of Rock And Roll!
Published by EnjoyUp Games and developed by Quaternion Studio Rock Zombie is an interesting arcade-style action game that will remind retro gamers of the cheesy yet fun horror games you would usually find in most arcades during the 90's, but is it a solid game by today's standards or is it something that would have been better off releasing a couple decades ago? Keep reading to find out our answers to these questions and more!
The gameplay is simple button mashing goodness for the most part where you must side-scoll across many zombie filled stages with an occasional 3-D plane section that will allow you to freely roam and bash some zombie's heads! There are other types of stages as well such as a motorbike riding stage where the objective is to mow down as many zombies as you can without crashing your motorbike these unique stages are a nice change of pace and can be quite challenging at times!
You can also purchase artwork using money that you earn while playing the game which is a nice touch, but overall the game doesn't have much replay value after beating the game. The controls are solid, but occasionally can be problematic especially on the motorbike stages.
The story is told through still-comics and is really cheesy however there's a certain charm to this form of storytelling. These comics can also be viewed from the main menu once you unlock them!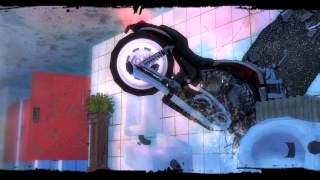 The graphics are quite good and detailed with plenty of blood thrown in! The sound effects are also equally detailed, but it's the rocking soundtrack that will draw players in with its heart-pumping guitars ripping it up! All-in-all the game's audio-visual elements are superb, however do be aware that the game is very load so turn your TV and gamepad's volume down or risk damaging your speakers!
Bottom-Line:
With fun, yet challenging arcade-style gameplay, good graphics, and a rocking soundtrack Rock Zombie is a solid title that's worth checking out, though sometimes the controls can be somewhat cumbersome and failure to turn down the volume on your gamepad can lead to damaged speakers.
Price: £6.29/€6.99/$6.99

Score:
★★★★★★★☆☆☆ 7/10
Permissions in this forum:
You
cannot
reply to topics in this forum