Towafan7

Admin

Blocks, Water, And Gravity = Fun!
Art of Balance is a physics based puzzler developed by Shin 'en Multimedia and was originally released on the WiiWare service a few years ago. The game was well received by critics and consumers alike, but does this Wii U version live up to its WiiWare predecessor or is it just simply a cash in? Continue reading to find out!
Art of Balance is a simple yet extremely challenging game that has players stack shaped blocks while forcing them to not have any of the blocks touch the water, which might seem like a simple concept in theory, but it's extremely difficult to accomplish even during early stages in arcade mode! The game also features other modes such as the unlockable Endurance mode and even a competitive multiplayer mode which is a blast to play!
The game features an incredible amount of stages and content for its price and will test the skills of even the most hardcore gamers around! The controls are smoth and easy to use, however the physics will take some time to fully understand and learn. The Off-TV Play is a solid feature and doesn't have any technical issues.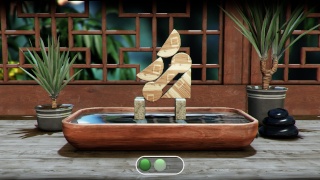 The soundtrack is exceptionally well presented with a groovy beat that isn't too distracting while playing, but is still pleasing to the ears, while the other sounds such as the blocks falling into the water sound very realistic! The graphics are also very fluent with next to now slowdowns and gorgeous HD visuals that really look nice especially on the Wii U gamepad!
Bottom-Line:
With extremely challenging yet enjoyable gameplay, tons of content, smooth controls, excellent ambiance, and impressive visuals Art of Balance is a game that no Wii U owner who enjoys a good puzzler should ignore! We highly recommend this amazing Wii U title!
Price: £7.15/$8.99

Score:
★★★★★★★★★☆ 9/10
Permissions in this forum:
You
cannot
reply to topics in this forum