Towafan7

Admin

Surviving For 99 Seconds Would Be A Miracle Even Houdini Would Be Proud Of!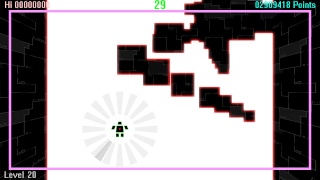 99Seconds is an arcade-style action game developed and published by EnjoyUp Games that was originally released on the DSiWare service. Does this game live up to EnjoyUp Games' other DSiWare Wii U remake Abyss? Keep reading this review to find out!
99Seconds is a challenging title meant to test your skills and see how high of a score you can achieve within the 99 seconds you are given! The game has two main gameplay modes, arcade and survival. In arcade mode you and up to four friends must avoid objects to rack up the points, should an object hit you the penalty isn't death, but instead you won't receive any points for a few seconds which can severely affect your potential end-game score.
In arcade mode the obstacles will start off simple, but will quickly become extremely challenging. Besides avoiding obstacles you can occasionally obtain 99,000 points by collecting an item that randomly appears and looks like the character you control! There are also items that look sort of like a crimson black hole that will add 5 seconds to your remaining time. Collecting these items is key to scoring big!
Survival mode differs slightly in that it's a multiplayer only mode and that the objective isn't necessarily to score big, but rather survive longer then the rest of your friends! The controls are easy to learn and are nearly flawless and the Off-TV Play is a good feature that works well!
The graphics while basic have been greatly improved from the DSiWare version of the game while the music is decidedly retro and fits the game well. The sound effects however can by far too loud at times which means that when using the Gamepad you should keep the volume set to a low setting to avoid damaging your speakers on the Gamepad.
Bottom-Line:
If you enjoy challenging retro-style arcade gameplay and own a Wii U do yourself a favor and download this solid budget title! It's got solid gameplay, superb controls, nostalgic graphics and music, and is tough as nails! But if that doesn't sound fun to you then it likely isn't your kind of game. Either way this is a very solid title that we highly recommend checking out!
Price: $2.49/€2.49/£2.29
Score:
★★★★★★★☆☆☆ 7.8/10
Permissions in this forum:
You
cannot
reply to topics in this forum