Towafan7

Admin

Classic Bullet-Hell Fun!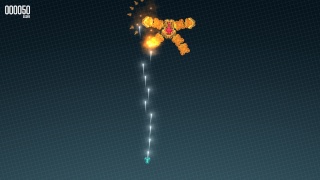 X-Type Plus is a title in the bullet-hell shoot em' up sub-genre and was published and developed by the indie development studio PhobosLab. How does this game fare when compared to classic games in the genre? Read the rest of our review for these answers and more!
X-Type Plus has a couple modes of play including Classic Mode and the much more difficult Plus Mode. In Classic Mode you must defeat wave after wave of massive bosses while avoiding the enemy's continuous stream of bullets to rack-up serious points and earn your place on the online high scores leaderboard! Plus Mode on the other hand forces players to defeat much more difficult enemies to earn additional time. If you die you lose time instead of a life and if your timer reaches zero it's game over.
On the downside this game doesn't feature any Off-TV Play which is unfortunate, however this game does provide simple yet gorgeous visuals and the music is equally simple yet fitting which is definitely a good thing! Overall on the audio-visual side of things this game is both retro and modern and pulls off this unique style quite well!
Bottom-Line:
With superb shoot em' up gameplay, blistering difficulty, and an incredible retro/modern audio-visual style X-Type Plus is a great game that fans of the bullet hell sub-genre should really enjoy! The lack of Off-TV Play is unfortunate, but not game-breaking so it doesn't hurt the game's score that much, however the popularity of the bullet-hell genre isn't that good in the North American region so not everyone will be a fan of X-Type Plus, but it's still a great, yet simple game nonetheless!
Price: $2.99/£2.69/€2.99
Score:
★★★★★★★☆☆☆ 7.8/10
Last edited by Rukiafan on August 17th 2014, 12:40 pm; edited 1 time in total
Permissions in this forum:
You
cannot
reply to topics in this forum