Towafan7

Admin

Off-Key, But Not Broken!
My First Songs is a childrens karaoke app that was developed and published by Ringzero Game Studio and was released on the Wii U eshop in North America back in April of 2014! Is My First Songs a quality app or is it a quick cash-grab? Keep reading to find out what we thought of the game based on a child's perspective!
First off My First Songs does a good job at making the karaoke experience fun for kids with its singing farm animals and other animations during the songs, and there are plenty of childrens favorites in the song-list, however there are a few issues with the game. First of all the microphone clearly isn't calibrated as well as it should be as there were many cases when I said the right lyrics at the right time and it wasn't registered on the game as the correct lyrics. Secondly there are some other bugs that caused the app the freeze which was quite cumbersome. Thankfully, however those bugs aren't too common.
Another thing that struck us as being odd is the lack of Off-TV support in this game, which would have been a great feature and just feels like a missed opportunity on the developer's part. Visually this game has bright, colorful, and highly cheerful, yet detailed graphics! Each song has it's own unique animated video that plays during the karaoke session that fits the currently selected song and they look great! The music is high quality and even though adults will be embarrassed singing these tunes, "unless they are singing along with their own children" these songs are without a doubt perfect for young children!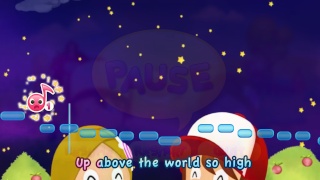 Bottom-Line:
With gameplay that can be fun for the target audience, great visuals, and excellent soundtrack My First Songs can provide hours of fun for young children, however many technical issues and poor design decisions severely hurt the game's score, but no doubt there will be some people who would like this game so it certainly isn't shovelware and as such we give this game a decent recommendation for Wii U owners with young children!
Price: $9.99/£8.99/€9.99
Score:
★★★★★★☆☆☆☆ 6/10
Last edited by Rukiafan on August 17th 2014, 12:42 pm; edited 1 time in total
Permissions in this forum:
You
cannot
reply to topics in this forum