Towafan7

Admin

Diagnosis Not Terminal, But Could Be Better.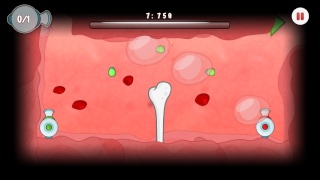 Developer Bear Box Media's debut Wii U eshop title Internal Invasion might have received mixed criticism from some of the professional media outlets, but how do we feel about the game? Well you'll need to keep reading our review to find out!
Internal Invasion is an arcade-style puzzle game where you play as some sort of medicinal virus and must use cannons to reach other cannons and ultimately find the exit of a level in a limited amount of time to clear a stage, however it's not as easy as it sounds as every time you miss landing in another cannon it drains your host's life force and if it reaches zero you lose. So if you start running low on your host's health you must collect medicine capsules to recover the health meter! The game is fairly lengthy for a bargain title and will likely take several hours to beat, however for first-time players the later levels are brutal in difficulty to the point of not being fun, which is a huge negative for this game.
The levels are also in many cases poorly designed and cause the player undue frustration, but it has its moments of being enjoyable as well which is the only reason why this game isn't totally unrecommended, but the negatives do hurt the score by a large amount.
The controls in the game are okay, sure they're easy to learn, but oftentimes you will deal with the cannons not firing you where you want them to which can be quite annoying sometimes, however the Off-TV play works great and feels perfect while playing this title, which is certainly a positive thing! The graphics are simple and look like something from a cheap iphone title, but its not much of an issue given the bargain price of the game. The soundtrack is also simple yet effective while the sound effects are basic and get the job done.
Bottom-Line:
With enjoyable gameplay during earlier stages and perfect Off-TV features, as well as a decent albeit simplistic audio-visual presentation Internal Invasion can be quite fun at times, however sloppy controls and poorly designed levels late in the game hold this game back from being a truly solid title, but for the price it might be worth checking out!
Price: $4.49
Score
★★★★★★☆☆☆☆ 6/10
Last edited by Rukiafan on July 17th 2014, 2:14 pm; edited 1 time in total
Permissions in this forum:
You
cannot
reply to topics in this forum