KeAfan7

Admin

A Knight In Shining Armor!
Shovel Knight is an 8-bit retro inspired action/platformer developed by Yacht Club Games and has been released on both the Wii U and 3DS eshops, but does it live up to the incredible amount of hype it has received prior to its release? Continue reading our review to find out!
In Shovel Knight you take the role of a retired knight who lost a close friend in battle, but has returned to action due to the turmoil created by the Order of No Quarter. You will jump, dig, and bounce your way through many lengthy and difficult stages to defeat the knights under the control of The Order of No Quarter!
Shovel Knight takes the Mega Man approach to the platforming genre with lengthy levels that possess sub-bosses with a master boss at the end, however you don't obtain any new weapons from the bosses, instead you obtain relics from hidden blue treasure chests that are usually hard to find and if you do find one it'll cost you gold to purchase it meaning that you will want to find as much gold as you can during the stages. These relics are usually necessary to find in order to overcome certain obstacles in a given stage. Shovel Knight also possesses a unique checkpoint system where you can actually destroy a checkpoint to obtain a sizable amount of gold, but unless you are an experienced player we don't suggest that you do this!
There are many hidden secrets and if you look carefully at the walls or ground you can usually spot the secret areas so they're not unfairly hidden it just takes a little observation to spot these secrets! The game is quite long as well with over 15 rather lengthy stages, 2 towns where you can purchase upgrades and play minigames, as well as several map enemy stages which are usually short platforming or boss stages it will likely take around 5-6 hours to beat and then there is a slightly more challenging New Game + to tackle after completing the game. The main differences between a normal game and a New Game + is that each stage has fewer checkpoints and you take more damage from enemies.
The Wii U version of Shovel Knight has an exclusive Miiverse feature titled The Digger's Diary where you can choose an avatar for yourself and access Miiverse posts regarding the screen that you are currently in for help, secrets, or even superb artwork of your current location! It's similar to the Tingle's Bottles from The Legend of Zelda: The Wind Waker HD, except messages automatically show up in the diary! One thing to note is that The Digger's Diary isn't available during Off-TV Play.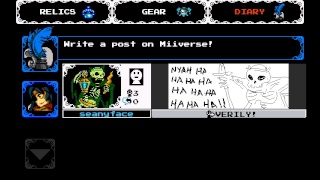 The controls in Shovel Knight are top-notch as they are both responsive and easy to learn and while the Off-TV play is superb it prevents you from utilizing the Wii U exclusive Miiverse features which is unfortunate. As for the visuals Shovel Knight looks breathtaking with impressive 8-bit pixel art characters and backgrounds it's style is nearly unparalleled by any other 8-bit game released thus far! The music is equally as impressive and rivals the best tunes on the NES console while the sound effects sound genuinely 8-bit quality!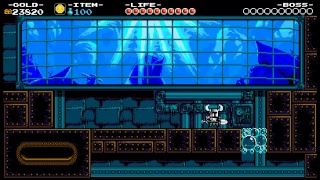 Bottom-Line:
With incredible gameplay that rivals that of 8-bit legends such as Super Mario Bros. 3 and Mega Man 2 Shovel Knight is one of the best games released on the eshop! Couple that with the unparalleled 8-bit graphics and audio as well as flawless controls and you have yourself a true masterpiece! We give this game the highest recommendation if you don't have Shovel Knight yet, do yourself a favor and download now!
Price: $14.99Score:
10/10
Last edited by Rukiafan on June 26th 2014, 10:58 pm; edited 1 time in total (Reason for editing : fixed a typo.)
Permissions in this forum:
You
cannot
reply to topics in this forum