Towafan7

Admin

Hopping Challenge!
Chubbins is a challenging platforming title developed by Dahku Creations and originally released on IOS. The game hasn't received the greatest of reception from critics, but what do we think of this tough-as-nails platforming title? Keep reading to find out!
Gameplay And Controls:
The gameplay is simple yet extremely challenging as you must navigate the levels by jumping from platform to platform while avoiding obstacles and falling off of the bottom of the screen, which starts off easy, but quickly becomes difficult! The height of your jump and what direction you'll jump depends on the type and direction of the arrow that is displayed on the platform you bump into and not only do you have to worry about where you land you must also avoid enemies, spikes, and other devious traps that are found throughout the game's many stages. Other things such as anti-gravity zones will also prove challenging and will test your skills as a gamer!
The game features over 50 levels and several challenging boss fights and will take most gamers at least 15 hours to master the game enough to beat it. The controls are quite responsive so you shouldn't experience any issues with dying due to shoddy controls. The Off-TV play functions properly and is a nice feature of the game!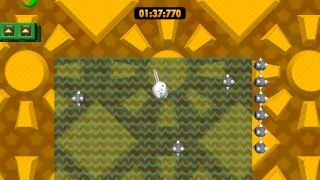 Graphics And Sound:
The graphics in Chubbins are very simplistic with colorful backgrounds and fairly simple enemy models. It certainly doesn't push the limits of the Wii U hardware, but it does fit well with the style of the game! The music is fairly basic and isn't as catchy as one would expect from a platformer, but it doesn't sound bad so it's only a minor issue. All in all the presentation of the game is decent, but certainly could have been better.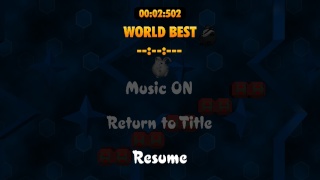 Bottom-Line:
With extremely challenging, yet enjoyable gameplay and smooth controls Chubbins is a good game that we certainly recommend at least looking into, however the audio/video presentation of the game is somewhat underwhelming, but regardless Chubbins is a very solid title!
Score:
7/10
Last edited by Ichigofan on February 16th 2016, 2:47 pm; edited 1 time in total
Permissions in this forum:
You
cannot
reply to topics in this forum