Towafan7

Admin

Dashing And Jumping Galore!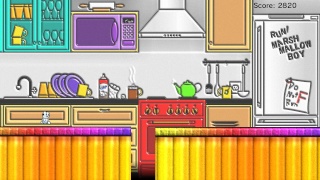 I've Got To Run! is a sidescrolling platformer in the runner sub-genre that focuses exclusively on scoring as many points as you can in each of the game's 3 modes! Developed by the one-woman studio 4Corner Games this game has alot of polish for a game developed by a single person, but is it accompanied by serious issues as well? Let's find out!
Gameplay And Controls:
I've Got To Run! features simple runner mechanics and randomly generated levels that focus on scoring as many points as you can by surviving as long as you can! The game also features 3 modes of play including Endless Classic, Endless Special, and Endless Double and each mode has distinct features such as different gravity settings, double jumping, and slowing or speeding up time which all add something different to the formula. The levels can be very easy or very hard and unfortunately there is no way to tell which it's going to be until after you start a game as the random generation of the levels seems to have some issues with balancing issues, but other than this the gameplay is very solid.
The game does have a few issues however, such as freezes during long sessions of play and a long boot sequence when starting the game, but overall the issues are quite rare. As for the game's controls they are quite smooth and responsive with no issues to speak of and the Off-TV play is a nice feature!
Graphics And Sound:
The graphics in I've Got To Run! are quite impressive for a game developed using html. The character model is very detailed and the backgrounds look gorgeous, however the fact that the backgrounds are static and don't move with the character makes the game look a bit peculiar in this regard, but it's just a minor issue. The soundtrack for the game is quite nice as well and fits the game perfectly!
Bottom-Line:
With solid gameplay, smooth controls, and a solid audio/visual presentation I've got to run is a great budget eshop title, however difficulty balancing issues and a few bugs do hold this game back from being as good as it could be, but it's still a solid title that we recommend looking into if you like the genre!
Score:
7.5/10
Permissions in this forum:
You
cannot
reply to topics in this forum