Towafan7

Admin

Heroic Bloop...erm Squids Save The Seven Seas!
The GameBakers have been a staple on IOS and mobile devices for awhile now and have earned a reputation as being a gem of a developer in the sea of endless indie companies on the download services for those devices so how does Squids Odyssey stack up against the heavy hitters of the Wii U eshop? Let's find out!
Story, Gameplay, And Controls:
Squids Odyssey has a surprisingly rich story with likeable characters and humorous text dialog that is sure to put a smile on the faces of most gamers, while still providing some seriously dark story elements. Most games that try to balance being humorous and dark at the same time don't fare well, however Squids Odyssey manages to do this quite well. The game won't win any awards for its story, but its storytelling is well above average for an indie title!
The Gameplay is a mix between a strategic RPG and Marbles to be honest which might sound like a bizarre combination, but it's surprisingly enjoyable and has much more depth than we were expecting! The game features a shop where you can use pearls that you've earned by defeating enemies, beating levels, and carrying out certain objectives in each level to purchase new Squids, hats, and items between missions, you can also use those pearls to level up your Squids as well in the home base menu!
Most Squids can be unlocked by progressing through the game's 100's of levels and chapters, but most helmets can only be obtained by opening specific treasure chests in certain levels giving you a reason to fully explore each level! The game isn't perfect however as it has an imbalanced job system with only 4 character classes which feels sort of disappointing, but overall the gameplay is quite good.
The controls in the game are quite good and very responsive with no flaws to speak of and the Off-TV play is nicely implemented as well!
Graphics And Sounds:
Squids Odyssey looks good for a game originally released on IOS. The characters are detailed, the backgrounds are fully animated with schools of fish swimming and other nice graphical touches that add to the game. The soundtrack of the game is quite good as are the sound effects so all in all the presentation of Squids Odyssey is quite solid!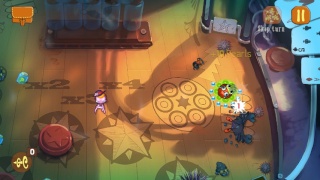 Bottom-Line:
With a humorous story that can be dark at times, smooth and responsive controls, and solid gameplay, music, and graphics Squids Odyssey is a good game that is worth considering if you're into strategic titles. And the sheer amount of content that this game possesses is absolutely staggering so it could keep you entertained for a very long time!
Score:
7/10
Last edited by Ichigofan on February 11th 2016, 2:36 pm; edited 1 time in total
Permissions in this forum:
You
cannot
reply to topics in this forum