Towafan7

Admin

Purrfect!
Scram Kitty And His Buddy On Rails is an on-the-rails shooter/plotformer developed by Dakko Dakko Games and has been one of the most anticipated eshop titles for the Wii U! Does the game live up to its hype? Keep reading to find out!
Gameplay And Controls:
The gameplay in Scram Kitty is refreshingly unique in-terms of both its design and features! There are a few different modes of play including adventure where you must collect cats by doing various things in each stage including defeating bosses and collecting every item in the stage which is easier said then done as the levels are for the most part fiendishly difficult and traps will stop you in your tracks. These traps are usually fair though there are a few exceptions that will force you to restart a stage.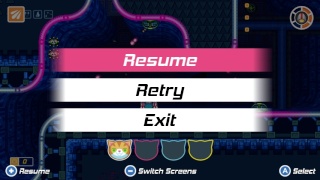 The level designs are brilliant and will keep you coming back to collect the cats that you missed to unlock more challenging levels! The final level of the game will challenge you more than any other game currently available on the eshop so be prepared to work towards beating the game! This isn't a bad thing though as it'll bring a sense of satisfaction to players when they finally see the game's ending!
The controls are nearly flawless once you get used to them, but it'll take a few hours to figure out the game's physics. Overall there is nothing negative to mention about the controls of the game! The Off-TV Play works well with this game due to its gameplay having a handheld feel to it!
Graphics And Sounds:
There's no denying that Scram Kitty And His Buddy On Rails is a gorgeous game between its 2.5-D HD pixel art direction and highly detailed 3-D character and enemy models that really pop in HD Scram Kitty puts even certain retail throwback titles to shame!
Scram Kitty And His Buddy On Rails also has a catchy soundtrack and the sound effects such as the weapons firing and the enemies death cry are crisp yet feel like they belong in a retro title in the 90's which fits the game well and sounds amazing!
Bottom-Line:
With perfect gameplay that will give you hours of enjoyment, nearly perfect controls, gorgeous visuals, and a catchy soundtrack Scram Kitty And His Buddy On Rails is easily one of the most polished Wii U eshop titles to date rivalling WiiWare equivalents such as La-Mulana and Cave Story! The only minor issue that the game has is that it takes a while to get used to the game's physics, but otherwise the game is flawless! There's just no reason not to add this amazing title to your Wii U digital games collection!
Score:
10/10
Permissions in this forum:
You
cannot
reply to topics in this forum