Towafan7

Admin

A King or A Pawn?!
Gameplay And Controls:
Pure Chess is a chess title originally released on IOS, but is now available on many platforms including Wii U and 3DS! The game makes excellent use of the Wii U Gamepad and the controls are simple and precise! Pure Chess has many modes of play including single game, multi-match tournaments, and even an online mode where you can play against people who have the game regardless of platform which means that there's always people to play online matches with! The only downside is that you have to sign up to be able to play online which is a bit of a hassle, but at least it's free!
The computer AI is very easy at lower difficulty settings, but will challenge even the best chess players at higher settings which means that everyone can enjoy the game at their own level and increase the cpu level as they get better at the game!
Graphics And Music:
The graphics seen in the Wii U version of Pure Chess are some of the best you'll ever see in a video game version of a board game as the backgrounds are realistic and gorgeous as do the boards and pieces! The music tracks in the game are few, but what is there is absolutely breathtaking and sets the mood for the game!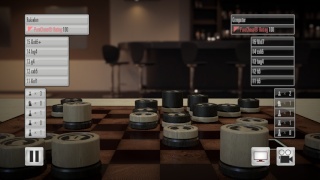 Bottom-Line:
With true-to-life gameplay, excellent use of the Wii U Gamepad, and flexible difficulty settings the game is one of the best chess titles released in recent memory, and with breathtaking graphics and music the game doesn't fall short in-terms of presentation either, however the odd online registration does make setting up online matches somewhat cumbersome, but overall the game is terrific!
Score:
8.5/10
Permissions in this forum:
You
cannot
reply to topics in this forum