Towafan7

Admin

Our Exclusive Features Return!
Today I had the chance to interview Javier Otaegui via e-mail and discuss various things regarding Horizon Riders, the eshop, and other interesting information, so without further delay here is our interview!
Hello how are you guys?Sabarasa:
Fine, enjoying the southern summer, thanks!
Thank you for taking the time to answer our questions, we really appreciate it!Sabarasa:
We really thank you for the opportunity.
Why was Protocol cancelled for the WiiWare service?Sabarasa:
Protocol is a very ambitious game; actually we could say it is our most ambitious game. Both Horizon Riders and Protocol were actually scheduled for a 2010 release, but due to some big blows we received during that year, we were forced to push them back. Horizon Riders, being a simpler game, was published in 2011. We analyzed the results of Horizon Riders and we took the hard decision of changing platforms for Protocol. It was a really tough decision as Protocol for WiiWare was 85% done, we were working on the matchmaking modules, and this was practically all that was left, apart from debugging and balancing. But publishing the game in 2012 would have been a terrible decision, as the WiiWare market dried up and people were already expecting the Wii U.
Can we expect a new game from you for the Nintendo eShop on the 3DS and Wii U?Sabarasa:
Yes, we are right now working on many fronts, including the new Protocol and the upcoming release of Save the Turtles for iPad and Android tablets, but 3DS and Wii U are still on our roadmap.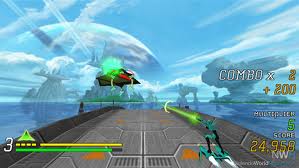 How successful do you feel your WiiWare title Horizon Riders was?Sabarasa:
This is a tough one. From an audience point of view, we received very good feedback, people love the game. Also, from a critic point of view, we got some solid reviews. But the sales numbers were not stellar at all. It's quite discouraging putting so much hard work and heart into a game, seeing good critiques, but bad numbers. I believe we released very late in the WiiWare life cycle. Perhaps if we had released with our original 2010 date, things would have been different. Right now we are exploring the possibility of bringing Horizon Riders to new platforms.
Did the patch for Horizon Riders increase sales for the game?Sabarasa:
Just a very tiny bit. We patched the game because we read all the reviews, which were all quite good but unequivocally all of them said the control scheme was bad. We analyzed the issue in depth, and we thought 'hey, these guys are right!'
During the development process we just did not see the problem, and the original control scheme was very natural for us, but we should have tested the game much more with random people. I think that patching the game was a good decision, even when the sales did not increase, as I think that giving the best possible experience to all those who had originally bought the game was paramount.
Was the game Sin and Punishment an inspiration for your game Horizon Riders?Sabarasa:
This is a funny story, as pretty much everyone believes Sin and Punishment was the inspiration for Horizon Riders, but it was not our inspiration at all. As a matter of fact, Sin and Punishment was not very popular in Argentina for some reason, so actually –with some shame- I must confess that we did not know the game J.
Of course after the initial previews and the obligatory comparison with it, the first thing we did was to look for it and analyze it in depth, but our game was pretty much all laid out already. We are proud of the number of games that we know and played, but sometimes you just have some blind spots. Our main inspiration for Horizon Riders was actually Space Harrier.

What are your thoughts about the Wii U and 3DS eshops?Sabarasa:
I believe that Nintendo is in the right direction with the eShops. WiiWare and DSiWare were quite bumpy starts, with a lot of space for improvement. And with a lot I literally mean a lot. Some of the eShop news are quite encouraging for indie studios. Nintendo has consistently been one of the most innovative companies in the world, and I'm positive their transition to the 100%-digital world will be successful. The big question is how important the indies will be for their strategy.
We look forward to your future titles!Sabarasa:
Thanks! We'll keep working and bringing the best games we can deliver J
Have a great day!Sabarasa:
You too! Thanks for the interview!
Javier Otaegui
Permissions in this forum:
You
can
reply to topics in this forum