Towafan7

Admin

Mario's Best Monochrome Adventure!
Price: $3.99/3.60 (U.K.)
Publisher: Nintendo
Developer: Nintendo R&D1
Genre: Platformer
Players: 1
See why Super Mario Land 2: 6 Golden Coins is vastly superior to the original Super Mario Land game in my first 3DS Virtual Console review! Also learn about a rumored upcoming feature that could be made available in the future! Please enjoy!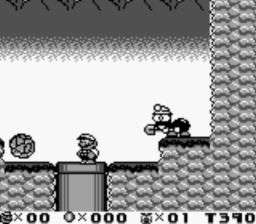 Story and Gameplay
There isn't much of a story in Super Mario Land 2: 6 Golden Coins, but it was the first Mario game to introduce the now famous Nintendo anti-hero Wario as well as many new enemies, some of which haven't been seen in a Mario game since.
The game features 6 worlds with 4 massive levels each and there's a boss at the end of the 4th level of each world. Some of the bosses are quite tricky to beat without an appropriate power-up. Speaking of power-ups the fire flower has been improved from the first Super Mario Land and acts the same way as the fire flower power-up in Super Mario Bros. (NES)!
There are other power-ups as well including the super carrot that turns mario into Rabbit Mario and gives him the ability to jump higher and fly for very short distances!
The worlds have very unique themes which range from standard Mario fare to spooky halloween and even outer space which makes each world feel unique! At the end of every level you can find a bell which if rung will start a mini-game where you can win power-ups and 1-ups!
The game can be long for a Gameboy game so expect to use the Virtual Console save state feature often.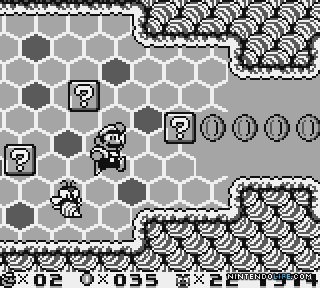 Graphics and Sounds
The graphics have been vastly improved over the first Super Mario Land game as the character and enemy models are larger and more detailed and the character and enemy animations look almost as good as those seen in Super Mario Bros. 3 (NES)!
The levels are also brilliantly designed and the background and foreground graphics are beautifully designed with so much detail that it's hard to believe that this is a Gameboy game!
The sound effects are (NES) quality and the soundtrack is one of the very best you'll hear in a Gameboy title!
There are a few minor sound issues in the game, but these only occur rarely.
Future Update?
A new rumor has started and it could mean a future update for this game! There is rumor going around the internet right now that claims that sometime in the near future Nintendo will add the Super Gameboy enhancements to their 3DS (Gameboy Virtual Console) games! This is just a rumor and hasn't been proven yet, but certainly is a possibility!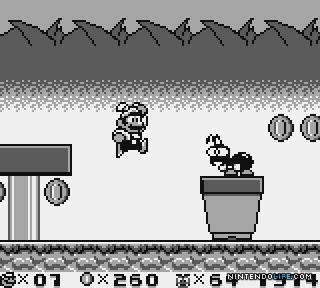 Bottom Line
With amazing gameplay, beautiful graphics, and excellent music Super Mario Land 2: 6 Golden Coins easily outshines its predaccessor in every conceivable way and is truly a masterpiece that should not be passed up!
Score ☆☆☆☆☆☆☆☆☆ 9/10
Last edited by Rukiafan on August 12th 2012, 11:49 am; edited 2 times in total
Permissions in this forum:
You
cannot
reply to topics in this forum