Search found 8 matches for arcade
by Reanfan

on September 21st 2018, 10:37 am
Search in: Headline News Stories
Replies: 22
Views: 471
~~~~~~~~~~~~~~~~
Scantily Clad Girls Everywhere!
~~~~~~~~~~~~~~~~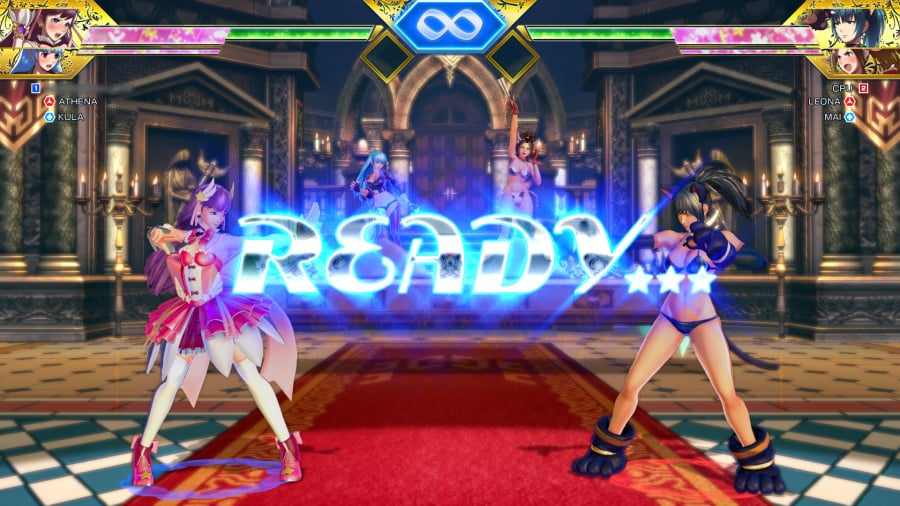 Developed by SNK and published by NIS America, SNK Heroines is a fighting game for people who for a lack of better words like a full cast of female characters in their fighting games. So you know there will be oversexualized characters, however once you get into the meat of the game it is excellent at least in-terms of its gameplay mechanics, but is this enough to earn a passing grade from us? Keep reading to find out!
The story is mostly forgettable, but the characters are quite humorous and will constantly complain about things such as their bust size, or their outfits which is hilarious to be honest. The gameplay mechanics are actually quite accessible and easy to learn and the combo input is definitely fast-paced so expect battles to end rather swiftly rather than slow-paced technical fights.
Overall SNK Heroines feels like an old-school
arcade
fighter in every way which is nice for longtime fans of the genre. There are several modes, but nothing all that unusual for a fighting title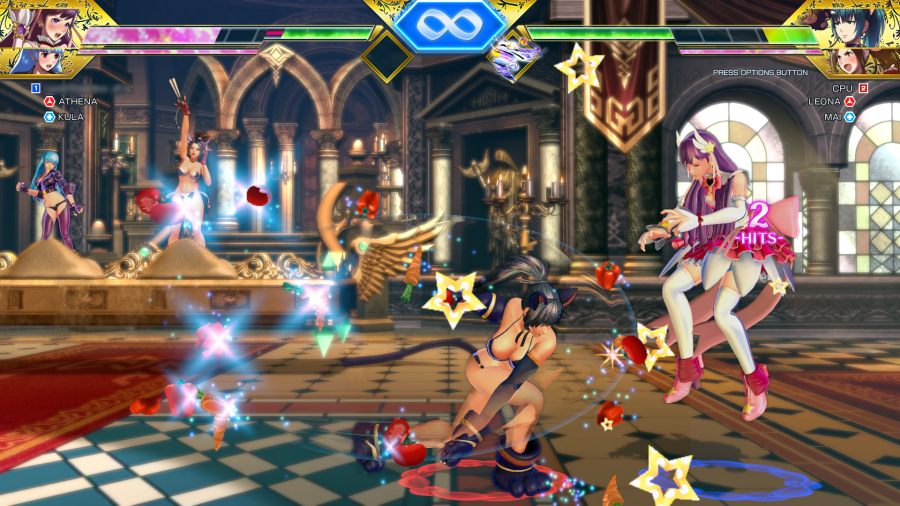 The controls are intuitive and easy to learn which is always a must in a fighting game. The visuals are nice, sure they won't blow you away, but are definitely detailed and at times quite pretty. The music is also quite solid and fits the game perfectly.
Bottom-Line:
With great gameplay and controls, and solid audio-visual presentation the game had potential to be extremely good, but a forgettable story and ridiculous amount of fan-service held this game back from its potential, regardless the game is still a solid choice for fans of old-school
arcade
-fighters and as such we give SNK Heroines: Tag Team Frenzy a solid level of recommendation!
~~~~~~~~~~~~~~~~
Score: ★★★★★★★☆☆☆ 7/10
~~~~~~~~~~~~~~~~
~~~~~~~~~~~~~~~~
#Review
#NiSAmerica
#NiSA
#SNK
#Fighter
#Arcade
#PS4
#Vita
#Retail
#PSN
#Switch
#eShop
~~~~~~~~~~~~~~~~
by Reanfan

on July 13th 2018, 12:18 pm
Search in: Headline News Stories
Replies: 12
Views: 556
~~~~~~~~~~~~~~~~
A Solid Yet Fruity Racer!
~~~~~~~~~~~~~~~~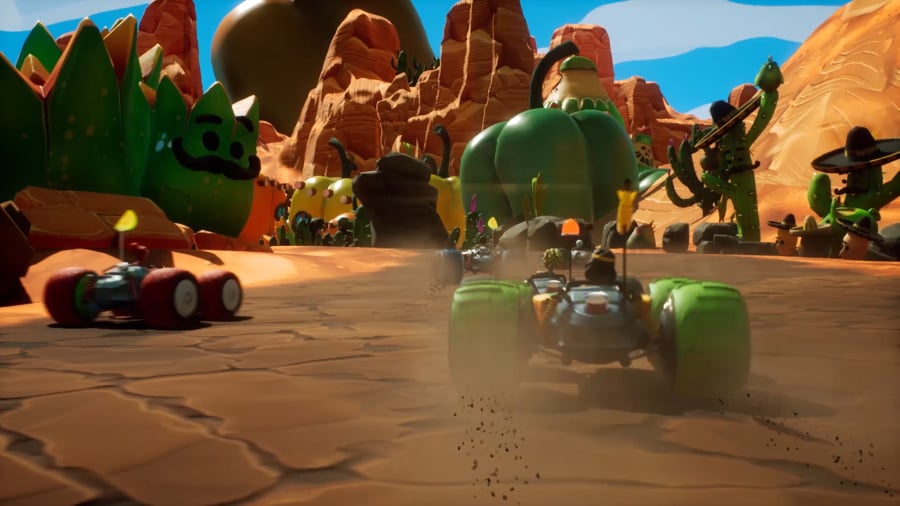 Developed by 3 Clouds.it and published by PQube, All-Stars Fruit Racing is an ambitiously fruity racer that does fill a gap in the PS4's library of games as there aren't many
arcade
kart racers on the console, but is it worth purchasing? We think so and here's why: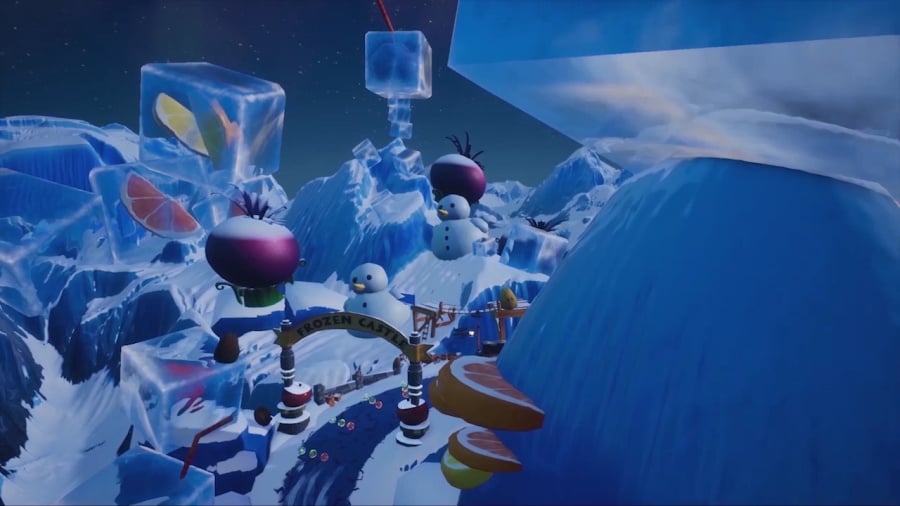 All-Stars Fruit Racing takes a unique approach to the kart racing formula in many ways, but the game nails the core aspects of the genre perfectly with tight controls that are both responsive and easy to learn, good course design, challenging A.I., and of course a hearty power-up and item system.
What makes this game so unique is that each character has their own item sets that can be powered up or altered through the fruit mixture system. This system is actually quite hard to explain in any sort of detail without spoiling too much, however it is among the most enjoyable power-up system we've seen in an
arcade
racer!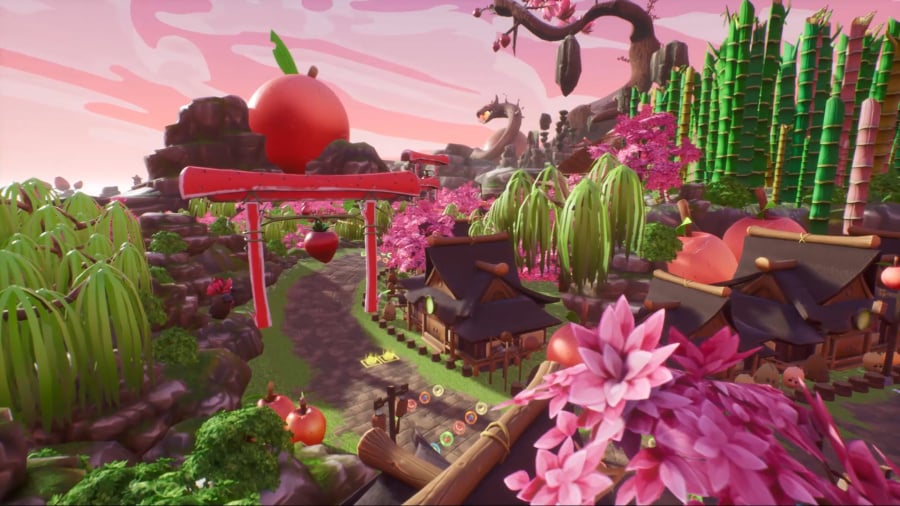 Visually the game is a real treat as the courses are vibrant and lush and feature a lot of intricate details, the character and object models as well as the special effects are quite impressive and the soundtrack is exceptional to boot, there's really nothing short of perfection when it comes to the audio-visual presentation of All-Star Fruit Racing!
Bottom-Line:
With great gameplay, excellent controls, and a breathtaking audio-visual presentation, All-Star Fruit Racing for PS4 is a fantastic
arcade
racer that we highly recommend to all fans of the sub genre, and with such a unique and enjoyable power-up system we had to give this game a good level of recommendation!
~~~~~~~~~~~~~~~~
Score: ★★★★★★★★☆☆ 8/10
~~~~~~~~~~~~~~~~
~~~~~~~~~~~~~~~~
#3Clouds
#PQube
#AllStarFruitRacing
#Arcade
#Racer
#PS4
#Retail
~~~~~~~~~~~~~~~~
by Reanfan

on July 5th 2018, 8:29 pm
Search in: Headline News Stories
Replies: 9
Views: 229
~~~~~~~~~~~~~~~~
Splashing Some Ink!
~~~~~~~~~~~~~~~~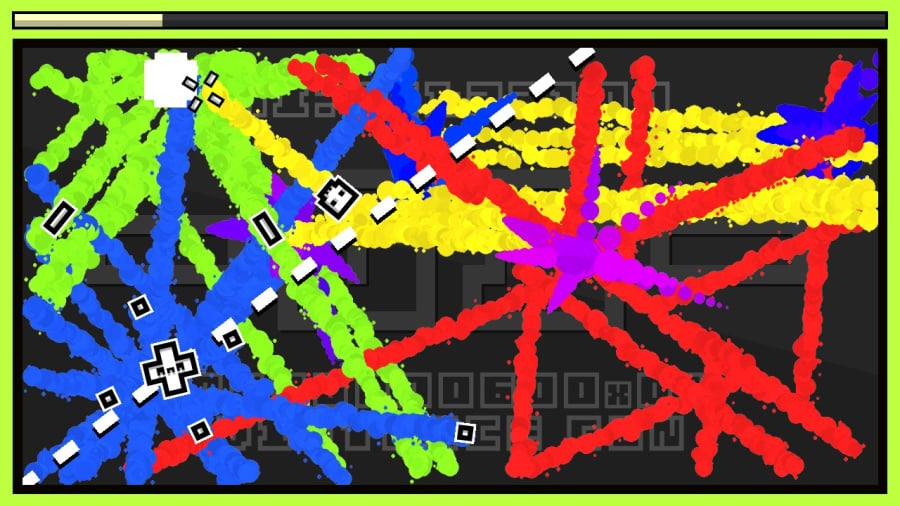 Developed by Petite Games and published by Ratalaika Games, Inksplosion is a simplistic
arcade
-style shoot 'em up title that is tough as nails, but definitely quite sparse in-terms of content. Is the lack of content enough to ruin the experience of this retro shooter? Not necessarily and here's why: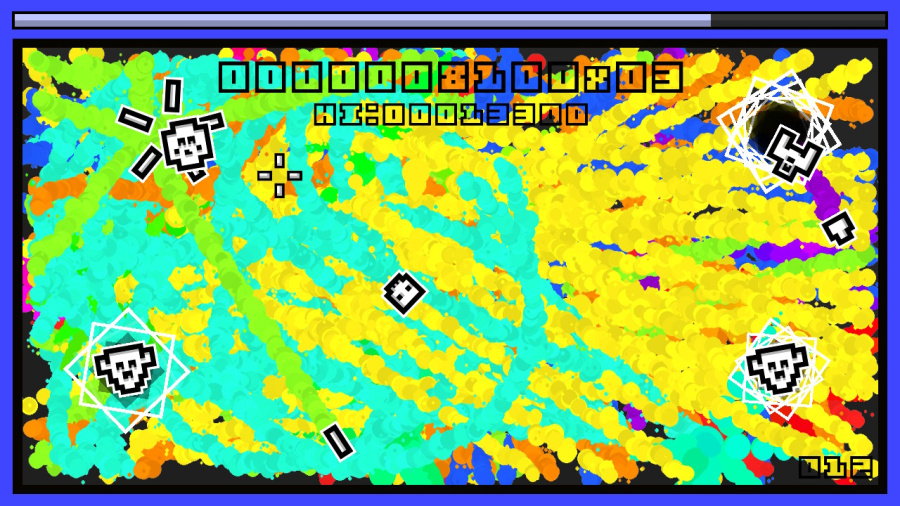 The gameplay is pretty straightforward as Inksplosion is an arena-based shoot 'em up title with extremely retro mechanics, you have a few variety of enemies that fire various weapons and certain bullet patterns and there are a few level hazards here and there, but this game really goes back to the absolute basics. This is its greatest flaw as well as its greatest strength.
The overall amount of content is fairly lackluster and there isn't much variety in the level designs which repeat frequently. There are a few modes, but all of them are pretty basic. The one upside is that you can earn the platinum trophy in under a half an hour with enough luck and skill and the game is cross-buy with Vita and has different trophy lists between systems and regions!
The audio-visual presentation is very simplistic in nature and in all honesty the game looks quite sleek and the soundtrack fits the early to mid-70's
arcade
theme the developer was aiming for in Inksplosion!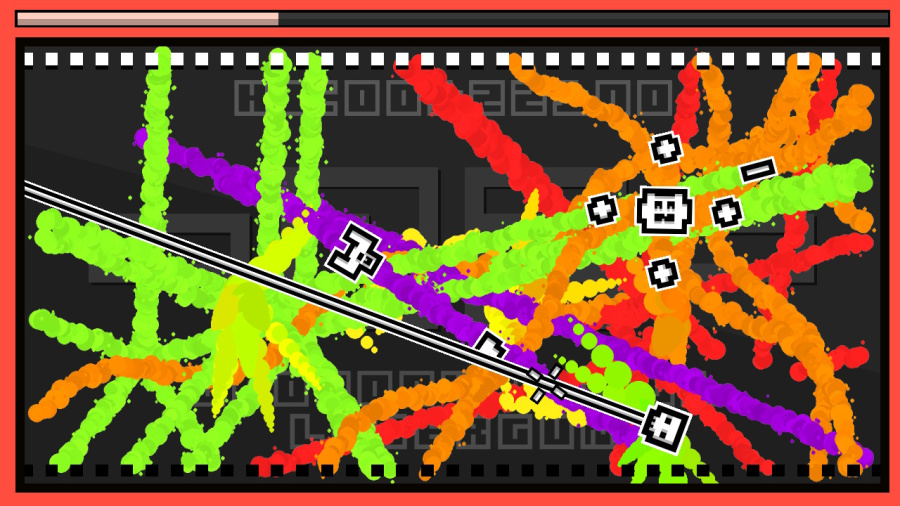 Bottom-Line: With fun gameplay, responsive controls, and a superb yet simplistic audio-visual presentation, Inksplosion is a good way to kill a few minutes here and there, but its one fatal flaw is that it really doesn't have much in the way of content or replayability which hurts the game immensely, however we still think it's a decent little game and as such we give Inksplosion a decent level of recommendation.
~~~~~~~~~~~~~~~~
Score: ★★★★★★½☆☆☆ 6.5/10
~~~~~~~~~~~~~~~~
~~~~~~~~~~~~~~~~
#Review
#PetiteGames
#RatalaikaGames
#Arcade
#ArenaShootEmUp
#PS4
#Vita
#PSTV
#PSN
#Switch
#eShop
~~~~~~~~~~~~~~~~
by Reanfan

on December 10th 2017, 2:33 pm
Search in: Vita PSN Reviews
Replies: 14
Views: 953
~~~~~~~~~~~~~~~~
For The Castle And Glory!
~~~~~~~~~~~~~~~~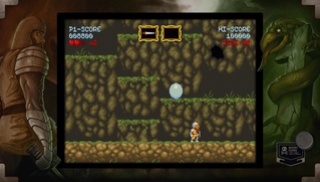 Developed by Locomalito and published by Abylight, Cursed Castilla (Maldita Castilla EX) for Vita is a throwback title that possesses traits and elements of many of the 80's and 90's
Arcade
greats, such as Ghosts & Goblins, Super Indiana Jones, Rygar, and many more! Is the game worth it though?! We think it's one of the best throwback titles in recent years and here's why: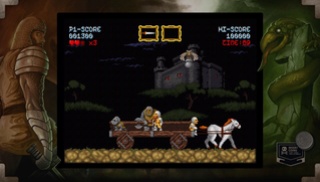 The gameplay in Cursed Castilla is superb to the max, the game is an action-platformer at its core and is not only a nostalgic trip down memory lane, but also provides superior gameplay to that of the titles the game is clearly inspired by! The game is also HARD, and we mean NES HARD! Expect to die alot before learning how to best tackle the game's many challenging stages!
The game has a ton of enemies and challenging bosses to tackle, there are plenty of power ups to be had, but the most interesting aspect of the game are the hazards. Some things that you wouldn't think dangerous are deadly, such as windmill blades in the background. There's even a stage where massive eggs roll by and you can kill them or dodge them, so you decide to dodge them and suddenly you find yourself surrounded by harpy enemies that hatch from those eggs! This clever stage design is just one example of many which really showcases the developer's talent!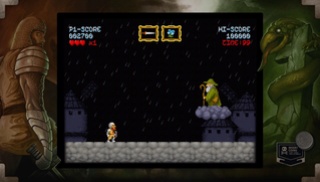 Cursed Castilla is PSTV compatible which is fantastic news! The controls are also easy to learn, but can take awhile to master. The audio-visual presentation is absolutely amazing in a true to history representation of 80's
Arcade
titles! The chip-tunes are fantastic, the characters and levels look groovy, overall you won't find much better even from the likes of Shovel Knight, though obviously the art-direction is completely different.
Bottom-Line:
With fantastic and challenging gameplay, excellent controls, PSTV compatibility, and nostalgic audio-visual presentation, Cursed Castilla for Vita is one game that no Vita owner should miss out on and because of this, we give the game a nearly perfect level of recommendation!
~~~~~~~~~~~~~~~~
Score: ★★★★★★★★★½ 9.5/10
~~~~~~~~~~~~~~~~
~~~~~~~~~~~~~~~~
#Review
#Abylight
#Locomalito
#Vita
#PSTV
#3DS
#CursedCastilla
#MalditaCastillaEX
#Arcade
#Retro
~~~~~~~~~~~~~~~~
on July 25th 2016, 9:41 pm
Search in: Latest Playstation News
Replies: 5
Views: 823
~~~~~~~~~~~~~~~~~~~~~~~~~~~~~~~~~~~~~~~~~~~~~~~~~~~~~~~~~~~~
Pac-Man Madness Is Coming To A PS4 Near You!
~~~~~~~~~~~~~~~~~~~~~~~~~~~~~~~~~~~~~~~~~~~~~~~~~~~~~~~~~~~~
Hey there my PlayStation gamers, Bre here with another exciting update for you. This one hits close to the heart for me as it deals with one of my favorite games/game characters, none other than Pac-Man himself. Awhile back there was a game released called Pacman Championship it took the game of Pac-Man and upped it with headache inducing game play and bright lights to make an even more fun version for you and me to love.
Well they're back and with a new version of our favorite fun loving game, called Pac-Man Championship 2 and it's being released on the PlayStation 4! So for those of you lucky enough to own one, you have a new game to look out for in September. And If you don't, no worries I'm sure that someday we can all have the chance to experience this game.
Source:
Pushsquare.
~~~~~~~~~~~~~~~~~~~~~~~~~~~~~~~~~~~~~~~~~~~~~~~~~~~~~~~~~~~~
#Namco
#Bandai
#Pacman
#PS4
#PSN
#Arcade
~~~~~~~~~~~~~~~~~~~~~~~~~~~~~~~~~~~~~~~~~~~~~~~~~~~~~~~~~~~~
by Reanfan

on April 4th 2016, 7:33 pm
Search in: Virtual Console Wii U Reviews
Replies: 8
Views: 1209
~~~~~~~~~~~~~~~~~~~~~~~~~~~~~~~~~~~~~~~~~~~~~~~~~~~~~~~~~~~~
Fantastically Frantic Digging!
~~~~~~~~~~~~~~~~~~~~~~~~~~~~~~~~~~~~~~~~~~~~~~~~~~~~~~~~~~~~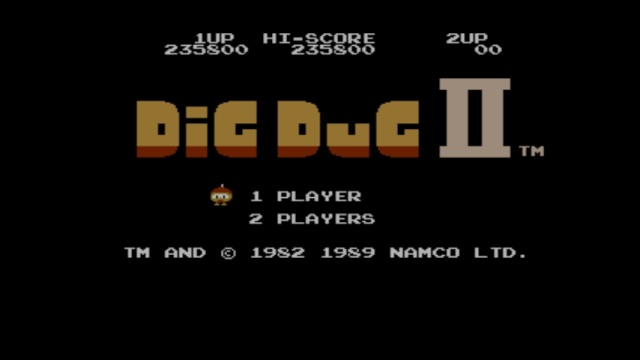 Developed and published by Namco Games and originally released on the NES back in the early 1990's in North America and Europe, Dig Dug II is an excellent sequel to the widely popular Dig Dug
arcade
game that was released in the 1980's, though it was and still is very underrated by gamers despite possessing far more content than its predecessor. Dig Dug II has withstood the test of time and it is still a very good game in our opinions and here's why:
The gameplay in Dig Dug II is fairly simple, but extremely challenging. You are armed with a harpoon that can inflate enemies and pop them for a small number of points and a jackhammer that can make cracks in the island and sink sections of the island. Drowning enemies award players with a very large amount of points, especially if you drown a large number of them in one go! Sinking three sections of the islands causes a fruit, vegetable, beverage, or mushroom to show up which is worth anywhere from a small number of points to a rather sizeable number depending on the item.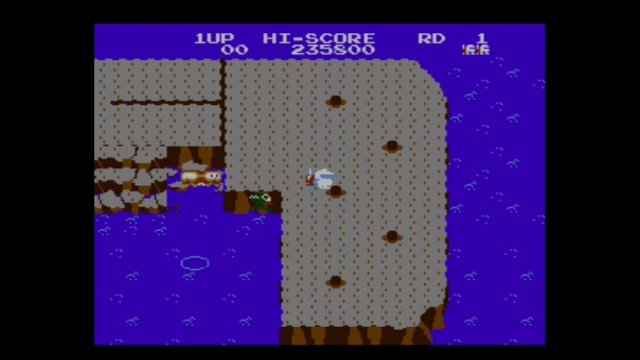 The game possesses seventy-two stages which can take two to four hours to complete as well as an additional hard-mode that can be played after beating the first seventy-two stages and possesses smarter and slightly faster enemies! The game is rather strange in-terms of difficulty as the level of difficulty ramps-up until the sixty-fourth stage and then suddenly becomes easy during the final eight stages.
The controls are very simplistic, being an NES title, that's not surprising, however you'll need quick reflexes in order to save yourself in some of the more challenging stages. The Gamepad's Off-TV-Play feature is great for this kind of game and you never have to worry about losing your high-score or progress in the game thanks to the save-state feature so overall this game might actually be superior to its original NES release!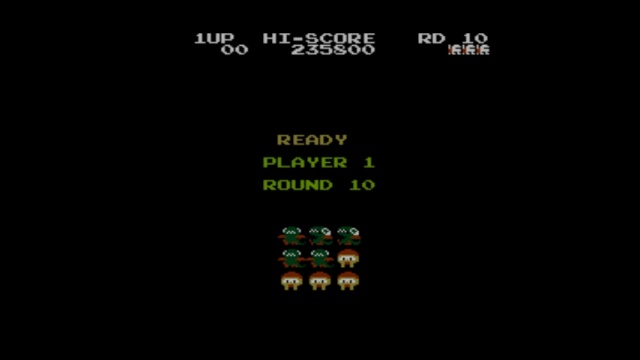 Visually the game has aged well, by NES standards anyways, with colorful characters and stages. One thing that really impressed us was the quality of the emulation in this title, there's no frame-rate dips or visual bugs such as "ghosting" or darker and muddier visuals that are prevalent in many other titles on the Virtual Console Service, which is an absolutely incredible feat on Bandai Namco's part!
The audio has a few issues such as very rarely skipping music notes and such, but isn't a major issue. The sound effects are standard
arcade
fare which isn't necessarily a bad thing and the music is very catchy and enjoyable. Perhaps not as memorable as Bubble Bobble's theme song, but both of Dig Dug II's songs are pretty catchy. The game over jingle is also very iconic in our opinions! Overall the audio-visual presentation in the game is superb with only a few minor issues!
Bottom-Line:
With solid gameplay, excellent controls, great new features courtesy of the Wii U Virtual Console service, and a superb audio-visual presentation that has very few emulation issues, Dig Dug II is a quality title that we highly recommend downloading especially for its price! So if you haven't downloaded the game yet, do yourself a favor and download it ASAP!
Price: $4.99
~~~~~~~~~~~~~~~~~~~~~~~~~~~~~~~~~~~~~~~~~~~~~~~~~~~~~~~~~~~~
Score: ★★★★★★★★☆☆ 8/10
~~~~~~~~~~~~~~~~~~~~~~~~~~~~~~~~~~~~~~~~~~~~~~~~~~~~~~~~~~~~
~~~~~~~~~~~~~~~~~~~~~~~~~~~~~~~~~~~~~~~~~~~~~~~~~~~~~~~~~~~~
#Review
#WiiU
#VC
#eShop
#DigDugII
#Namco
#NES
#Arcade
~~~~~~~~~~~~~~~~~~~~~~~~~~~~~~~~~~~~~~~~~~~~~~~~~~~~~~~~~~~~
by Reanfan

on April 4th 2016, 12:58 pm
Search in: 3DS eShop Reviews
Replies: 4
Views: 1128
~~~~~~~~~~~~~~~~~~~~~~~~~~~~~~~~~~~~~~~~~~~~~~~~~~~~~~~~~~~~
Borderlining Spoiled...
~~~~~~~~~~~~~~~~~~~~~~~~~~~~~~~~~~~~~~~~~~~~~~~~~~~~~~~~~~~~
Developed and published by Nnooo Studios, Blast 'Em Bunnies is an
arcade
shooter that can be fun in short bursts, however a lack of content, wonky controls, and repetitive gameplay hold the title back from true greatness, however that doesn't mean that the game is a total lost cause, and here's why:
The gameplay in Blast 'Em Bunnies is straightforward, you must shoot the enemies who just so happen to be adorable bunny rabbits. The level of difficulty can range from easy to moderately difficult which is to be expected from a title of its nature, however the game has several major flaws which hurt the game's overall score...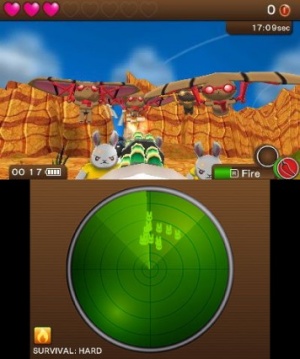 The gameplay is very repetitive as there just isn't much variety to the game's one stage, "that's right one stage" if you want to play additional stages you must purchase the paid dlc packs. The lack of content really hurts the replay value of the game. The controls are also incredibly wonky and very sensitive which makes playing the game a serious chore.
The audio-visual presentation on the other hand is really nice with adorable enemies and a colorful and cheery stage design the game truly looks great, while the sound effects and music are also quite fun and cheery!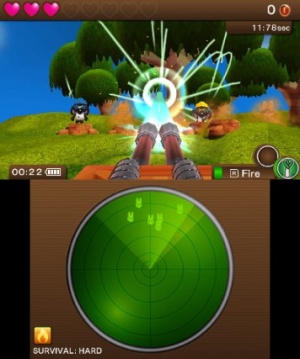 Bottom-Line:
With repetitive gameplay that can be fairly enjoyable for short periods of time and an excellent audio-visual presentation, Blast 'Em Bunnies had the potential to be a solid 3DS eShop title, however poor controls and an utter lack of content really hold this game back and negatively effect our opinion of Blast 'Em Bunnies. It can be fairly fun for short bursts so we give the game a poor recommendation rather than a bad level of recommendation.
Price: £2.99/$4.99
~~~~~~~~~~~~~~~~~~~~~~~~~~~~~~~~~~~~~~~~~~~~~~~~~~~~~~~~~~~~
Score: ★★★★☆☆☆☆☆☆ 4.5/10
~~~~~~~~~~~~~~~~~~~~~~~~~~~~~~~~~~~~~~~~~~~~~~~~~~~~~~~~~~~~
~~~~~~~~~~~~~~~~~~~~~~~~~~~~~~~~~~~~~~~~~~~~~~~~~~~~~~~~~~~~
#Review
#3DS
#eShop
#Shooter
#Arcade
#NnoooStudios
~~~~~~~~~~~~~~~~~~~~~~~~~~~~~~~~~~~~~~~~~~~~~~~~~~~~~~~~~~~~
by Reanfan

on January 20th 2016, 12:04 pm
Search in: WiiU eshop Reviews
Topic: Review: N.e.o. (Wii U eShop)
Replies: 6
Views: 874
~~~~~~~~~~~~~~~~~~~~~~~~~~~~~~~~~~~~~~~~~~~~~~~~~~~~~~~~~~~~
Asteroids On Steroids!
~~~~~~~~~~~~~~~~~~~~~~~~~~~~~~~~~~~~~~~~~~~~~~~~~~~~~~~~~~~~
Developed and published by Form Up Studios N.e.o. or Near Earth Objects as the game is known as is a love letter to the classic
arcade
shooter genre and is clearly heavily inspired by the Atari classic Asteroids!
The game does a good job at keeping players entertained with many modes, including an Endless Mode to rack up some incredibly high scores, a classic
Arcade
Mode with a set number of stages, three lives, and limitless continues and lastly Yolo Mode "You Only Live Once" which is an unforgiving mode where players are only given one life and zero continues to beat the
Arcade
Mode!
There's not a huge selection of enemies, but the ones that are there are quite varied. The game also features spreadshot and barrier satellite power-ups which will prove to be very useful when the going gets tough!
The controls are fairly good, though it takes a while to get used to. The Off-TV-Play is also a nice feature that we're always glad to see in a game!
Visually the game looks incredible in a retro kind of way! Sure the graphics are minimalistic, however the special effects such as neon explosions, flashes, etc. look fantastic! The audio is quite a treat as well, with a fantastic sound-track and superbly retro sound effects you'll feel like you're in a 80's/90's
arcade
!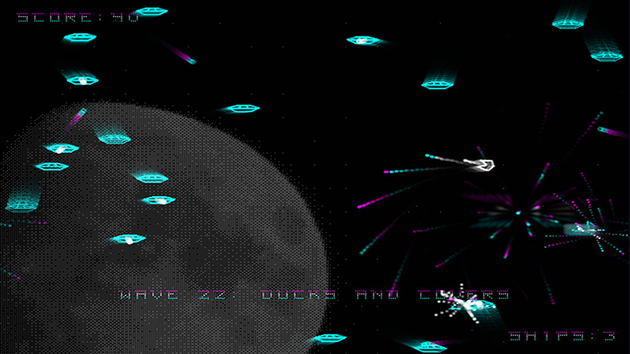 Bottom-Line:
With fantastic gameplay, tons of game modes, and an amazing audio-visual presentation N.e.o. is one fantastic
arcade
shooter for the Wii U eShop that you shouldn't pass up, and though the controls aren't easy to master, it doesn't ruin the experience in the slightest! Overall we give N.e.o. "Near Earth Objects" a great level of recommendation!
Price: $2.99
~~~~~~~~~~~~~~~~~~~~~~~~~~~~~~~~~~~~~~~~~~~~~~~~~~~~~~~~~~~~
Score: ★★★★★★★★☆☆ 8.5/10
~~~~~~~~~~~~~~~~~~~~~~~~~~~~~~~~~~~~~~~~~~~~~~~~~~~~~~~~~~~~
~~~~~~~~~~~~~~~~~~~~~~~~~~~~~~~~~~~~~~~~~~~~~~~~~~~~~~~~~~~~
#WiiU
#eShop
#Arcade
#Shooter
#Retro
~~~~~~~~~~~~~~~~~~~~~~~~~~~~~~~~~~~~~~~~~~~~~~~~~~~~~~~~~~~~