Search found 65 matches for 3ds
by Reanfan

on March 23rd 2018, 11:09 am
Search in: 3DS eShop Reviews
Replies: 13
Views: 780
~~~~~~~~~~~~~~~~
Mechanical Madness!
~~~~~~~~~~~~~~~~
Developed by Hit-Point and published by KEMCO, Machine Knight is a traditional style JRPG that doesn't revolutionize the genre, but is still a solid RPG nonetheless. Continue reading our review to find out why we think the game is worth checking out:
The story of Machine Knight is much more modern in its settings than any other KEMCO JRPG we've reviewed so far which was a pleasant a refreshing surprise. The game does an excellent job of explaining the lore and technology of the world and to be frank was by far the most enjoyable aspect of the game in our opinions!
The gameplay is standard JRPG fare though the character customization via Machina Boards for each character was somewhat unique and added a bit of depth to the game. The battles are turn-based as expected from a KEMCO game, but overall the battle system was quite enjoyable albeit simple.
The controls in Machine Knight are intuitive and easy to learn, plus the optional touch control features are very nicely done. The game itself is fairly short in length clocking in at under 30 hours in length, but is still well worth its asking price.
The audio-visual presentation is extremely good compared to KEMCO's previous
3DS
releases. The game looks like a AAA SNES JRPG and in some instances looks even better than Chrono Trigger visually. The soundtrack is also absolutely sublime and fits the game perfectly. Overall the audio-visual presentation of Machine Knight is nothing short of amazing!
Bottom-Line:
With a unique and enjoyable story, solid gameplay, and excellent controls, Machine Knight is a worthwhile experience for any fans of the JRPG genre, while the flawless audio-visual presentation certainly adds alot to the game, Machine Knight's short length definitely is a disappointment. Regardless of that one drawback we give Machine Knight for the
3DS
a solid level of recommendation!
~~~~~~~~~~~~~~~~
Score: ★★★★★★★☆☆☆ 7/10
~~~~~~~~~~~~~~~~
~~~~~~~~~~~~~~~~
#Review
#3DS
#eShop
#KEMCO
#JRPG
~~~~~~~~~~~~~~~~
by Reanfan

on March 13th 2018, 10:11 pm
Search in: Latest WiiWareWave News
Replies: 16
Views: 952
~~~~~~~~~~~~~~~~
Seven Lucky Years!
~~~~~~~~~~~~~~~~
WiiWareWave has had it's fair share of ups and downs from its humble beginnings to the week in July 2012 when nearly 100 new members joined our community. And who can forget when we expanded to cover Sony games as well?
We've had more active times sure, but the fact that WiiWareWave has managed to not only survive, but continues to have an active following after seven long years is a feat most commercial websites don't even achieve. We would like to thank you, our loyal fanbase for continuing to support our community!
As always be sure to leave us your thoughts in our comments section below!
~~~~~~~~~~~~~~~~
#WiiWareWave
#Anniversary
#WiiWareWave7
#Wii
#WiiWare
#DS
#DSiWare
#WiiU
#3DS
#Switch
#eShop
#PS3
#Vita
#PSTV
#PS4
#PSN
~~~~~~~~~~~~~~~~
on March 11th 2018, 6:43 pm
Search in: Latest Nintendo News
Replies: 10
Views: 665
~~~~~~~~~~~~~~~~
Presented Directly To You!
~~~~~~~~~~~~~~~~
Hi, there gamers, Bre here with a whole lot of good coming at you from Nintendo themselves! As most of you know, recently Nintendo posted a Nintendo direct with this came so much awesome news! Let's start at the beginning with
3DS
news and coming soon:


new Warioware Gold – bringing some of your favorite old mini games along with new ones via your favorite bad guy Wario! This game is being brought to you by the 3Ds and includes all your favorite characters from the previous ones, though some are rocking new styles! This game will keep you on your toes and quick thinking when it launches on: August 3, 2018!


Next up on our amazing game list is one that is a cross of post-apocalyptic style races in "Dillon's Dead-heat Breakers"! In this game you will defend the frontier, as a red flash character named "Dillon." Multiplayer allows fun with friends in this game, as they join in as gunners to help you on your mission! Can't wait to try this game? A demo version will launch on May 10, 2018 with the full game becoming available on May 24, 2018!


Remember when the question "Are Mario, Luigi, and Bower better together" was answered by a previous 3D game with your favorite brothers? Well now we're taking on that question again with the new game "Mario and Luigi: Bowsers Inside Story and Bower Junior's Journey." This game will take you into the story with your favorite two brothers trying to find a cure for the blorps that is threatening the mushroom kingdom. The two-team duo though have been swallowed by Bowser and must fight to find their way out and save the kingdom. This game gives you the opportunity though not only to play as the brothers, but Bowser too!  Then on top of all that you get to see what goes on behind the scenes with Bower Jr as you play in his eyes and his story! This game launches to the 3DS sometime in 2019!


The last major game that Nintendo has given us on the 3Ds this direct is a twist on a favorite character from one of our childhood tv shows! Detective Pikachu stars none other than Pikachu himself trying to solve the case of why the Pokémon have went wild and broke the peace between them and humans. This Pikachu though is a bit different from the other, he's rough and has a bit of mouth. The cool thing about this game is we get a new amiibo designed for this game and is even bigger than the rest! The game and amiibo are available for pre-purchase right now, and launches March 23, 2018!


The last game we have announced is a remake of a classic tale, "Luigi's Mansion" is being brought to the 3Ds by Nintendo! This game was first released on the game cube, and everyone loved it! Nintendo is not giving us a more high def remake, and we can't wait to play it! This game will launch sometime this year!


Now onto the switch titles:

Kirby Star Allies brings a new twist to the classic game of Kirby! You and your friends can battle it out as Kirby and his friends and take on enemies together. Characters such as King Dede, Meta Knight and many more! Friends will be released in DLC throughout the year too! The demo for this game is already out and available via the e-shop! The full game itself will launch March 16, 2018!


Dark Souls fans can rejoice as the game has been announcing to be coming to the Switch very soon, but the new content that we got is very sweet. The Nintendo direct brought us the news of an amiibo coming out soon for the game! As if that wasn't enough, before the game launches there will be a network test giving players new and old to have a chance to test the game before it launches! Dates for the network test will come soon!! The full game and amiibo will be available "May 25. 2018!"


Next up we got a classic game with some new twists and friends joining the game in "Mario Tennis Aces!" This game is a classic having versions released onto many systems, but the switch version is bringing in all the fun of multiplayer, portability, and strategy into one game! You can play as your favorite Mario character and take on matches using things such as zone shots, blocks, and trick shots! Find the perfect combination of these and more when the game launches on "June 22, 2018!" Oh yeah, this game comes with story mode also!


Okay so a few months ago Sony launched their high def remastered version of their classic game "Crash Bandicoot", and us Nintendo fans were left bummed because we were left out on this game. Be bummed no more though Nintendo fans, as this game is coming to the Switch in "Crash Bandicoot the N'sane Trilogy" which launches July 20, 2018!"


Some other games we can look forward to on the switch and 3DS include: Undertale, Octopath Travelers including a special edition version, Sushi Striker, Hyrule Warriors Infinitive Edition and many more!


Oh, there is one thing we been dying to share with you from our friends in the Squid Research lab themselves! There is a new agent in town, and they don't seem to be like the others. This agent comes to us from the Octolings themselves and is here to help us squids in a whole new world and adventures. The Splatoon DLC "Splatoon Octo Expansion will launch on: Summer 2018! With this comes an update that will feature new gear, and once you beat the story mode on this expansion you and friends can choose to stay true to squids or be an octoling yourself! Pre-order is up now, and if you do pre-order you will get some sweet gear just for doing so!


Oh wait, we just got some breaking news Nintendo fans! This one Switch players have been waiting on and predicting for a bit now and finally it has been answered!  Super Smash Brothers is coming to the Switch brining in your favorite squid kid to the fight! We don't have an official release date for the game yet, but the game will be out sometime this year!


There are so many amazing games coming to us this year from Nintendo, so be prepared for loads of fun and loads of sleepless nights gamers! As always keep on gaming, and talk to you soon!

~~~~~~~~~~~~~~~~

#NintendoDirect #Switch #3DS #Smash #Splatoon #Dillon #WarioWare #MarioTennis #Gaming

~~~~~~~~~~~~~~~~
by Reanfan

on February 19th 2018, 11:57 am
Search in: Vita PSN Reviews
Replies: 16
Views: 903
~~~~~~~~~~~~~~~~
Reeling Us In Hook, Line, & Sinker!
~~~~~~~~~~~~~~~~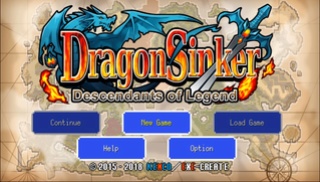 Hit-Point and KEMCO have always developed and published enjoyable JRPG's that are a great value for their consumers, but Dragon Sinker has a certain appeal that hasn't been seen in their previous console releases, but is that enough to award the game a perfect score? Not quite, but it came very close and here's why: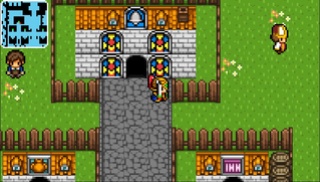 The story is your typical fantasy fare with three races teaming up to beat an enemy none of them can vanquish on their own, but despite being very cliché it works, and is every bit as good as Final Fantasy III (NES) and Final Fantasy V (SNES). Speaking of those two Final Fantasy titles, Dragon Sinker uses a very similar job system to what those two games possessed which is as enjoyable as it sounds on paper.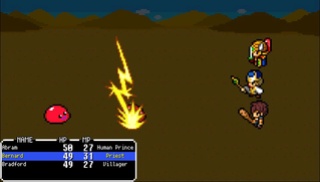 The battles are turn-based as expected and aren't all that complex, but using effective techniques and magic is paramount later on in the game, especially if you're playing on the hard difficulty setting. The game's world is surprisingly large for a game that's essentially a modern NES title and the game is fairly lengthy as well as it can take players 20-25 hours to beat the main story and an additional 8-15 hours to beat the post-game content!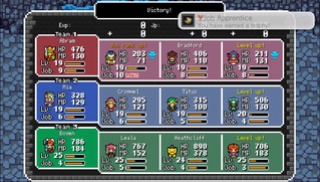 The controls in the game are about as simple as you'd expect so strategy plays a much larger role than your motor skills in this JRPG. One tip we need to share is that you'll want to backtrack and complete every quest in the game as the items and party members/job classes you'll obtain will help out immensely in the post-game content.
Dragon Sinker is also PSTV compatible which is always good news in our opinions!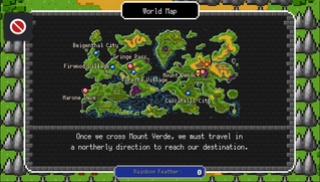 Visually the game is a real treat for retro gamers as not only is the spritework spot-on for an NES era game, Dragon Sinker also has an NES perfect color palette insuring that you'll feel like you've been transported back to the 1980's! Silliness aside, the characters are pretty varied and even change in appearance when you change their job class which is a nice touch.
The soundtrack is also nostalgic and uses genuine 8-bit chip-tunes warts and all and we loved every second of the piercingly brilliant tunes.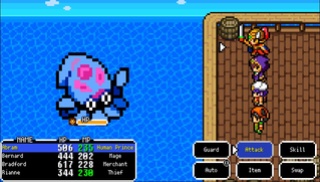 Bottom-Line:
With splendid gameplay and  a nostalgic story, Dragon Sinker will have you hooked from the very beginning, while the glorious 8-bit visuals and chiptunes will remind you of a simpler and more enjoyable era of gaming! Honestly there is virtually nothing that we can complain about in this game and almost everything is done flawlessly as such we give Dragon Sinker for the Vita a nearly perfect level of recommendation!
~~~~~~~~~~~~~~~~
Score: ★★★★★★★★★¾ 9.75/10
~~~~~~~~~~~~~~~~
~~~~~~~~~~~~~~~~
#Review
#KEMCO
#HitPoint
#Vita
#PS4
#3DS
#PSN
#eShop
#JRPG
~~~~~~~~~~~~~~~~
by Reanfan

on January 17th 2018, 9:16 pm
Search in: 3DS eShop Reviews
Replies: 14
Views: 899
~~~~~~~~~~~~~~~~
Soaring High!
~~~~~~~~~~~~~~~~
Developed by Hit-Point and published by KEMCO, Bonds
of the Skies is a fantastic budget JRPG that will keep fans of the genre entertained for many hours! Is this KEMCO's best game yet? Nope, but it's still a blast to play and here's why:
Bonds of The Skies has solid gameplay that is unique in various aspects, of course random encounters are in which we rather enjoy every now and then, battles are relatively straightforward, but there are some nuances such as being able to move characters around in your formation mid-battle without using a turn to increase damage given or save yourself if you're low on health by retreating to the back of your formation.
Elements play a
HUGE
role in the game and quite frankly make the enemies far too challenging for even intermediately skilled players in many instances, especially later in the game. We honestly had a heck of a time reviewing this, between the difficulty, a bug that was later fixed in the game, and our
3DS
breaking. Still if you like a serious challenge you should enjoy Bonds of The Skies. The story is pretty unique as expected from KEMCO so be prepared for a fun romp through the world of Eil, but don't expect any major plot-twists to catch you off guard this time around. Bonds of The Skies is rather short clocking in at under 30 hours in length so don't expect a 100 hour epic adventure.
The controls are easy to learn as expected from a throwback 16-bit JRPG. The graphics are a step-up from most of KEMCO's previous
3DS
titles which is nice. We also liked the character and enemy designs in Bonds of The Skies. The soundtrack is quite enjoyable as well and really sets the mood for the game!
Bottom-Line:
With solid gameplay, excellent controls, and a great audio-visual presentation, Bonds of The Skies for the
3DS
is a great game that most fans of the RPG genre should thoroughly enjoy, however the difficulty and short length of the game might be off-putting for some. Regardless we give Bonds of The Skies for the
3DS
a good level of recommendation!
~~~~~~~~~~~~-~~~
Score: ★★★★★★★★☆☆ 8/10
~~~~~~~~~~~~~~~~
~~~~~~~~~~~~~~~~
#Review
#HitPoint
#KEMCO
#JRPG
#3DS
#eShop
~~~~~~~~~~~~~~~~
by Reanfan

on December 10th 2017, 2:33 pm
Search in: Vita PSN Reviews
Replies: 14
Views: 953
~~~~~~~~~~~~~~~~
For The Castle And Glory!
~~~~~~~~~~~~~~~~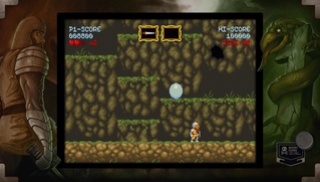 Developed by Locomalito and published by Abylight, Cursed Castilla (Maldita Castilla EX) for Vita is a throwback title that possesses traits and elements of many of the 80's and 90's Arcade greats, such as Ghosts & Goblins, Super Indiana Jones, Rygar, and many more! Is the game worth it though?! We think it's one of the best throwback titles in recent years and here's why: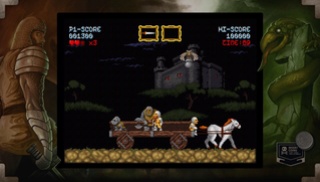 The gameplay in Cursed Castilla is superb to the max, the game is an action-platformer at its core and is not only a nostalgic trip down memory lane, but also provides superior gameplay to that of the titles the game is clearly inspired by! The game is also HARD, and we mean NES HARD! Expect to die alot before learning how to best tackle the game's many challenging stages!
The game has a ton of enemies and challenging bosses to tackle, there are plenty of power ups to be had, but the most interesting aspect of the game are the hazards. Some things that you wouldn't think dangerous are deadly, such as windmill blades in the background. There's even a stage where massive eggs roll by and you can kill them or dodge them, so you decide to dodge them and suddenly you find yourself surrounded by harpy enemies that hatch from those eggs! This clever stage design is just one example of many which really showcases the developer's talent!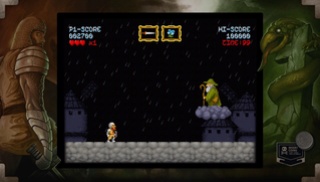 Cursed Castilla is PSTV compatible which is fantastic news! The controls are also easy to learn, but can take awhile to master. The audio-visual presentation is absolutely amazing in a true to history representation of 80's Arcade titles! The chip-tunes are fantastic, the characters and levels look groovy, overall you won't find much better even from the likes of Shovel Knight, though obviously the art-direction is completely different.
Bottom-Line:
With fantastic and challenging gameplay, excellent controls, PSTV compatibility, and nostalgic audio-visual presentation, Cursed Castilla for Vita is one game that no Vita owner should miss out on and because of this, we give the game a nearly perfect level of recommendation!
~~~~~~~~~~~~~~~~
Score: ★★★★★★★★★½ 9.5/10
~~~~~~~~~~~~~~~~
~~~~~~~~~~~~~~~~
#Review
#Abylight
#Locomalito
#Vita
#PSTV
#3DS
#CursedCastilla
#MalditaCastillaEX
#Arcade
#Retro
~~~~~~~~~~~~~~~~
by Reanfan

on October 25th 2017, 10:11 pm
Search in: WiiWareWave Exclusive Features
Replies: 16
Views: 619
~~~~~~~~~~~~~~~~
Bon Voyage Old Friend!
~~~~~~~~~~~~~~~~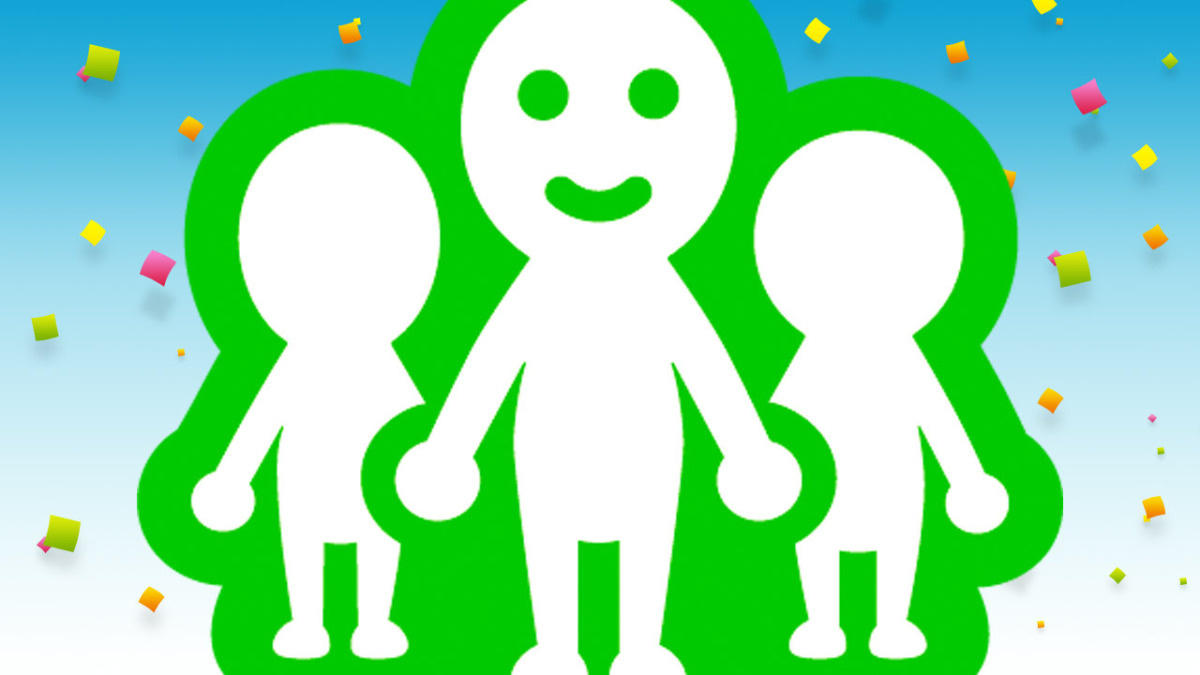 It's been five long years since Nintendo's foray into social media, Miiverse launched on Wii U and it has since ballooned into a massive hit especially after the app was added to the
3DS
, and though several restrictions added since 2015 have severely hampered the service, it is still going surprisingly strong in its twilight days leading up to its closure in less than two weeks. What does this mean for you? Well even if you don't use the app if you own a Wii U you will no longer be able to add friends to your friends list, this also means that you'll be unable to make new friends and send in-game PM's in games such as Monster Hunter 3: Ultimate as well. Basically it will mean that you'll have to make due with any current friends on your list for online experiences so I suggest you don't remove anyone from your list if you plan on having any online gaming sessions on your Wii U in the future.
The
3DS
is safe from this issue, since its friends list is tied to your handheld's friend code instead of Miiverse. Once Miiverse closes this will also render the Miiverse stage in Super Smash Bros. Wii U &
3DS
completely useless which is another major reason why important offline available content shouldn't be tied to features that will be removed in the twilight years of a console. This is just the tip of the ice berg though as nearly 115 Wii U games feature Miiverse support within the game itself such as Super Mario Maker, Splatoon, The Legend of Zelda: Wind Waker HD / Breath of The Wild, Xenoblade Chronicles X, Super Mario 3D World, Hyrule Warriors, New Super Mario/Luigi U, Shovel Knight, etc, etc. All of these games and many, many more will have very cool and unique features stipped from them upon Miiverse's closure which is definitely going to hurt the enjoyment factor of the games, but in some more serious cases will make some content impossible to obtain "I'm looking at you Xenoblade Chronicles X". Yes that's right, the two raid bosses in Xenoblade Chronicles X and their exclusive materials will be lost upon Miiverse's closure which will prevent players from creating a couple of the most powerful Skells in the game as well as some of the best weapons in each job class.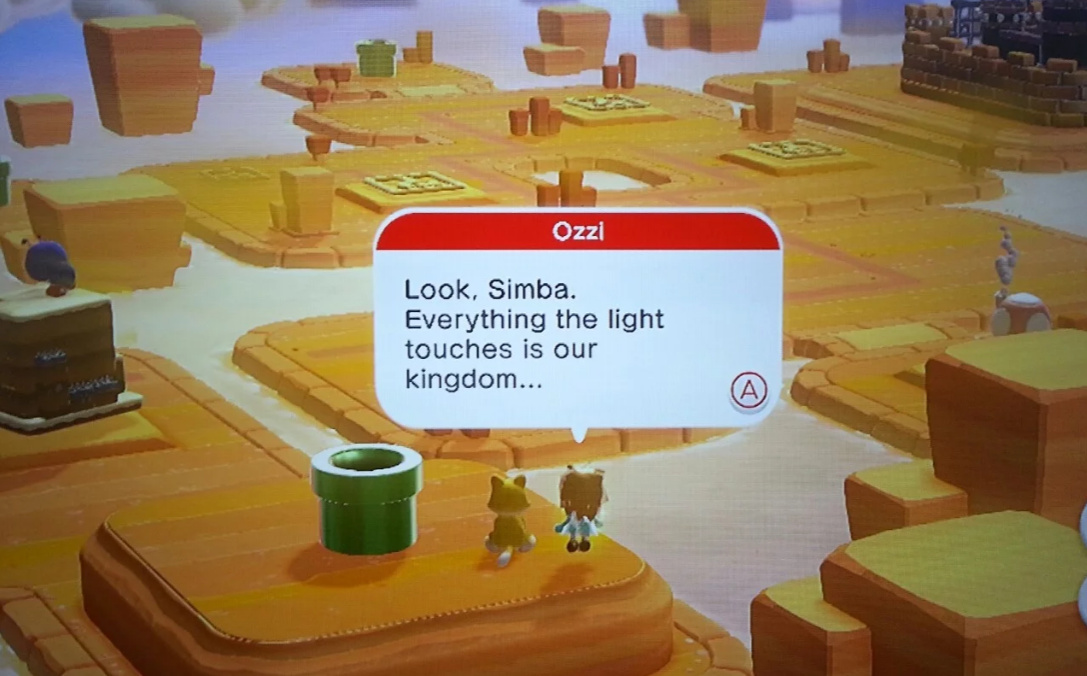 Regardless of the major flaws and drawbacks regarding the closure of Miiverse the social media experience it provided was one of the most unique and intriguing I have ever experienced and the colorful personalities of its myriad of members always put a smile on my face. One of the greatest things about Miiverse was that it was a gathering place of many highly talented and aspiring artists and the beauty of the art graced almost every member's timeline! There were plenty of hilarious moments such as the discovery of the aptly named Luigi Death Stare in Mario Kart 8, the creation of the facepalm-worthy meme character Bigley, and who can forget the annoyed developers talking smack about Nintendo's sudden announcement that Miiverse was going to be closing in November? Bottom line Miiverse was unique and incredible in so many ways and will be missed by our crew.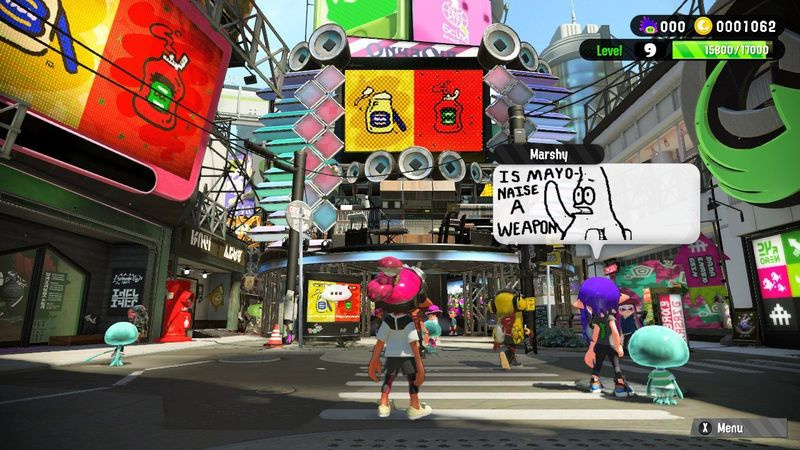 Anyways be sure to tell us about your thoughts about and past experiences you've had with Miiverse in our comments section below!
~~~~~~~~~~~~~~~~
#Miiverse
#Nintendo
#WiiU
#3DS
#Online
#Gaming
~~~~~~~~~~~~~~~~
by Reanfan

on October 18th 2017, 6:28 pm
Search in: 3DS Reviews
Replies: 14
Views: 682
~~~~~~~~~~~~~~~~
Revolutionary Party!
~~~~~~~~~~~~~~~~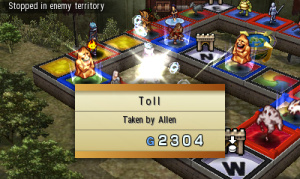 Developed by Omiya Soft and published by Nis America, Culdcept Revolt is a party game that fuses together gameplay elements from trading card games, board games, and other forms of entertainment. The game is actually very similar to Fortune Street which was released on the Wii and became somewhat of a cult hit in the West. So does Culdcept Revolt hold a candle to other party games such as Mario Party or Fortune Street? Continue reading our review to find out!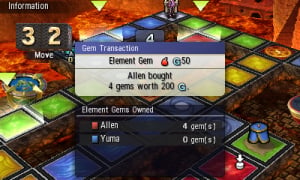 This isn't the first time a game in the Culdcept series has been released in the West as the first entry on the Sega Saturn did release outside of Japan. This is a definite step-up from its Saturn predecessor with a ton of new cards, boards, and gameplay features.
The rules can be pretty daunting at first, but the game's single player campaign does an excellent job at easing players into the nuances and intricacies of the game. You basically earn territories and buy and upgrade guardian monsters to guard your territory your opponents have to pay a toll when they land on your territory with an unlucky roll of the dice, however they can opt to attack your guardian and steal your property. There are much more crazy rules and points of interest such as gates that when passed earn you magic "in-game currency" as well which can be used to upgrade various things such as guardians and territories.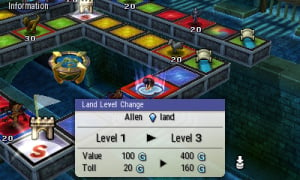 There are other rules typical of card games that apply such as card fusion and evolution which adds another layer of strategy to the game. The multiplayer is as fun as you'd expect from a AAA party game which is a must. The contols are also solid and easy to learn.
The audio-visual presentation is quite good. As you'd probably imagine the graphics are nothing that'll blow your mind, but they're still quite pleasing while the sound-track is very enjoyable and fits the mood of the game like a glove!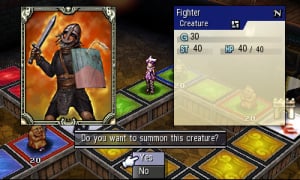 Bottom-Line:
With excellent gameplay, frantically amazing multiplayer, solid controls, and a rather enjoyable audio-visual presentation, Culdcept Revolt for the
3DS
is a great game that any fan of the party genre should thoroughly enjoy as such we give the game a great level of recommendation!
~~~~~~~~~~~~~~~~
Score: ★★★★★★★★★¼ 9.25/10
~~~~~~~~~~~~~~~~
~~~~~~~~~~~~~~~~
#Review
#CuldceptRevolt
#NisAmerica
#Party
#3DS
#Retail
#Gaming
~~~~~~~~~~~~~~~~
by Reanfan

on October 14th 2017, 5:43 pm
Search in: 3DS Reviews
Replies: 24
Views: 913
~~~~~~~~~~~~~~~~
A lightweight but intuitive game making engine for all to enjoy!
~~~~~~~~~~~~~~~~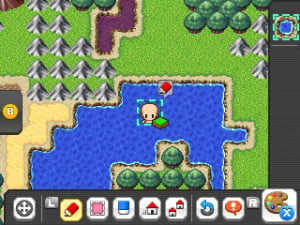 Created by Kadokawa / Jupiter and published by Nis America, RPG Maker: FES is a lightweight and very flexible game creation engine that's is fun to tinker around with, but how does it compare to its PC counterpart? Continue reading our review to find out the answer to that question and many more!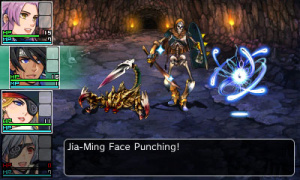 The FES game engine allows users to place preset assets and events with ease as well as letting them create maps with a robust world map and dungeon creator. The touch controls allow for easy placement and drawing for the various functions which is incredibly intuitive and gives the engine unparalleled ease of use which as you can probably already tell is the tool's strongest asset. You can even tweak some functions if you have basic knowledge of how game engine coding works such as creating a time of day or weather engine to run in your game or even make an adventure game similar to Zelda without using the built-in default battle system!
This game engine isn't perfect however, as a big flaw it has is a severe lack of assets such as character models, enemies, and objects. There's no way to create your own assets as far as we know which is a shame as that would alleviate much of the issues we have with the software. The biggest issue we have with the software "by a longshot" is that you can only upload a single project at a time for other players to download. This not only limits developers, but has caused a severe dearth of games to be released in the community download area of the app. Again you can purchase additional slots, but most people won't bother which is a very big problem for an app that relies on user-created content.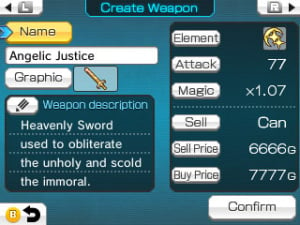 There's also a free player app that allows anyone to play games created on the engine free of charge on the
3DS
which is nice, but there isn't alot of completed content available to the community, just a bunch of short user-created demo's which won't hold most players attention for long. Bottom line, the developers should have made at least one or two finished games available from the start to showcase what the engine is capable of and to appease the players who are interested in playing rather than creation.
Visually the engine allows players to create games that look like they belong on the Gameboy Advance, which is impressive given the hardware you're working with and the art-style of the pre-made assets are gorgeous in all of their 16-bit glory! The audio is another limitation that the game has as there just aren't many tracks so don't expect to craft a masterpiece in that regard, but what is there is pretty good.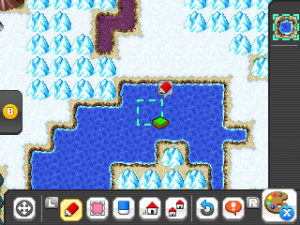 Bottom-Line:
With easy to use tools and an intuitive interface RPG Maker: FES is one of the easiest game creation engines we've ever seen so even the most inexperienced developers can craft an epic adventure of their own with this software, however many aspects of the software leave much to be desired, but if you can live with these limitations this software is a real gem albeit a flawed one. We give RPG Maker: FES for the
3DS
a decently solid level of recommendation.
~~~~~~~~~~~~~~~~
Score: ★★★★★★¾☆☆☆ 6.75/10
~~~~~~~~~~~~~~~~
~~~~~~~~~~~~~~~~
#Review
#KadokawaGames
#NisAmerica
#RPGMaker
#GameEngine
#3DS
#Retail
#eShop
#Gaming
~~~~~~~~~~~~~~~~
by Reanfan

on July 27th 2016, 12:41 am
Search in: 3DS eShop Reviews
Replies: 8
Views: 1008
~~~~~~~~~~~~~~~~~~~~~~~~~~~~~~~~~~~~~~~~~~~~~~~~~~~~~~~~~~~~
Infinitely Solid!
~~~~~~~~~~~~~~~~~~~~~~~~~~~~~~~~~~~~~~~~~~~~~~~~~~~~~~~~~~~~
We're huge JRPG buffs here at WiiWareWave so we always jump at the opportunity to review a new JRPG! Kemco are perhaps best known for being prolific contributors of the genre, especially on the
3DS
eShop so it shouldn't come as a surprise that they've released yet another JRPG on Nintendo's aging handheld console. Does Infinite Dunamis live up to the solid to great standard of Kemco's other eShop offerings? We think so and here's why:
Infinite Dunamis possesses a steampunk-style world and story and is quite different in that regard to most of Kemco's other JRPG offerings. The battle system is fairly straightforward, however there are a few unique elements that make it feel a little more unique. The level of customization of Estelle, one of the main characters is definitely one of the highlights of the game.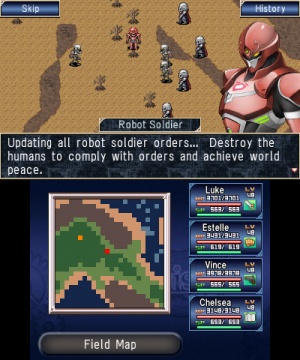 The controls are easy to learn and very intuitive which is always a good thing, in-terms of difficulty, the game is no cakewalk especially later on, but it's not overly difficult either so don't expect to get stuck too often. Visually the game looks decent enough, sure it's not going to win any awards in this regard, but it still looks nice for a budget title! The sound-track on the other hand is superb and fits the mood of the game quite nicely!
Bottom-Line:
With solid gameplay, a fairly unique steampunk story, excellent controls, and a well-balanced level of difficulty, Infinite Dunamis is a rather enjoyable JRPG that fans of the genre should thoroughly enjoy! The visuals are decent enough, but the sound-track is definitely the high-point of the game. If you're a fan of Japanese roleplaying games, you'll be right at home with Infinite Dunamis!
Price: $9.99/£9.99
~~~~~~~~~~~~~~~~~~~~~~~~~~~~~~~~~~~~~~~~~~~~~~~~~~~~~~~~~~~~
Score: ★★★★★★★☆☆☆ 7/10
~~~~~~~~~~~~~~~~~~~~~~~~~~~~~~~~~~~~~~~~~~~~~~~~~~~~~~~~~~~~
~~~~~~~~~~~~~~~~~~~~~~~~~~~~~~~~~~~~~~~~~~~~~~~~~~~~~~~~~~~~
#Review
#3DS
#eShop
#Kemco
#InfiniteDunamis
#JRPG
~~~~~~~~~~~~~~~~~~~~~~~~~~~~~~~~~~~~~~~~~~~~~~~~~~~~~~~~~~~~
Page 1 of 7 • 1, 2, 3, 4, 5, 6, 7