on June 10th 2019, 3:40 pm
What was your favorite announcement so far and what press event are you most looking forward to?
____________________________
The biggest Tales of fan in the land!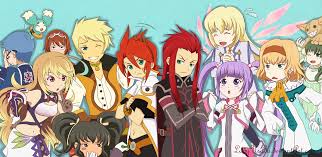 on June 13th 2019, 4:19 pm
Square Enix hands-down. So many amazing JRPG's are releasing on PS4 and Switch!
____________________________

on June 14th 2019, 3:53 pm
BANJO-FREAKING-KAZOOIE IN SMASH ULTIMATE!!
Hoo boy...kinda lost my cool there. But seriously, this is something I've wanted to see for a long time, which is made even better by the simple fact that Microsoft have been onboard with that decision for years.
Oh, and Collection of Mana on Switch, as well. Seiken Densetsu Surī in English? Hai, arigatou! Now if you'll excuse me, I'm gonna go craft a Smash Ultimate stage that's an enormous rotating Jiggy...

____________________________
Chromaicora - The new home of Zed and pals!
***
The pilot of
Power Rangers Mushroom Force
is currently being "filmed" on location in One-One Plains, but there's still time to claim - or reclaim - a spot in the series.
Anyone who wishes to reprise their roles should let me know as a response to any post I make. Anyone who wants an unclaimed role should do the same. And remember, the more you chat about the show, the more motivated I am to pump out new stories every week!  
CLICK HERE
to sign up for a role, chat about your favourite episodes and characters, or simply find out more about the series.
"Mushroom Force, Let's-a GO!"

Permissions in this forum:
You
cannot
reply to topics in this forum