Message reputation : 100% (3 votes)
Sisters In Dreamland!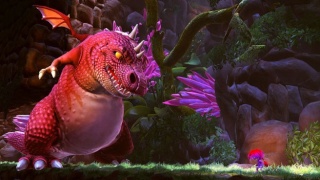 Black Forest Games the developers responsible for the fairly popular Wii U eshop title Giana Sisters has announced that they are working on a sequel to the title and that the Wii U is a targeted console for the game's release! Black Forest Games expects Giana Sisters 2 to release sometime in late 2015 to early 2016. On top of that they have hinted that the Halloween DLC released on other platforms last year will likely be released next month for the Wii U! And to top things off there are rumors that the Gamepad audio patch that was released in Europe earlier this year will be implemented on the North American version of the game when the Halloween DLC releases in the region, though this part of the story is mere speculation at this point, but it does seem plausible.
What do you think about all of this Giana Sisters related news? Which of these confirmed Giana Sisters projects are you most excited about? Do you hope that the rumored patch will be released in North America? Let us know in our comments below!
____________________________

Permissions in this forum:
You
cannot
reply to topics in this forum