Message reputation : 100% (3 votes)
Oh The Profanity!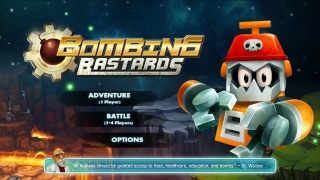 Sanuk Games the developer's of Spot The Differences Party! Have announced that their latest title, Bombing Bastards is going to release on the North American Wii U eshop next week on July 3rd via Twitter! The game is clearly inspired by the now defunct game developer Hudson Soft's Bomberman series and is said to feature a single player campaign and an up to 5 player battle mode! The game features over 30 stages and 5 worlds filled with enemies and bosses in the single player campaign. This is all the info that's currently available regarding the game, but you can find out more next week when our review of Bombing Bastards goes live!
Are you looking forward to this Bomberman inspired indie title? Let us know in our comments below!
Price: $6.99
____________________________

Permissions in this forum:
You
cannot
reply to topics in this forum