on April 15th 2013, 12:28 pm
Several bombs exploded at the event injuring many runners, cops, and paramedics. My heart goes out to the victims and their families.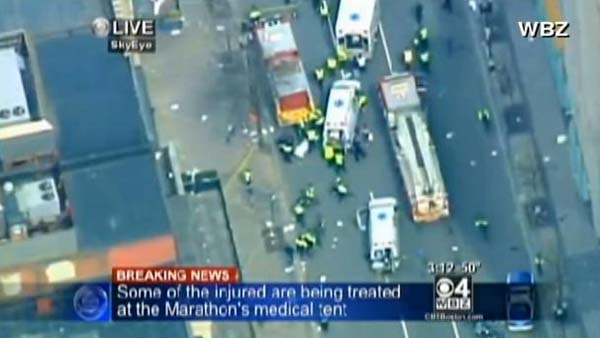 Link: http://www.kpho.com/story/21982414/reports-of-explosion-at-boston-marathon
____________________________

on April 15th 2013, 1:12 pm
The death count has reached two, so far...

____________________________
Follow me on MiiVerse: NINTENBRO82
Guest

Guest

on April 15th 2013, 7:16 pm
At least three people, one of them an 8-year old child, are dead and more than 130 injured. Of those injured, 17 are critical. Why ppl just can´t live in peace?
This sad news item has been widely covered in The Netherlands, too. Links:
Telegraaf
NOS
NOS 24 Live
on April 15th 2013, 8:00 pm
____________________________
CHROMAICORA ADVENTURESPrevious Episode:
 S04E05 The Turquoise and the Dracquan
Next Episode:
 S02E06 Midonian Outcast
Get ready, because new episodes of
Mask of Akanius
,
Flight of Indigo
and
Shell of Thal
are coming soon!
As Alph continues his search for mask fragments, he and his allies face a threat that could hinder the young warrior's progress. Meanwhile, Sky deals with some personal issues of his own while he is pestered by the antics of a truly whimsical force, and the crew of the
Hat
continues to grow, prompting Shelley to step up her role as captain in the face of her bitter rival, Michelle the Pirate Queen.
And could there be an appearance from a particular fiery-haired spellcaster and his green-topped sidekick? Stay tuned!
on April 15th 2013, 8:27 pm
Hmm, it's difficult to know what to say in situations like this. I suppose it shows us how precious life really is and how it can be taken from us quite unexpectedly. :-(
on April 15th 2013, 8:34 pm
Air traffic has halted across the US, hopefully people won't be unable to get back home from whatever business or vacation trips they were on.
____________________________


Permissions in this forum:
You
cannot
reply to topics in this forum