on April 15th 2013, 12:28 pm
Several bombs exploded at the event injuring many runners, cops, and paramedics. My heart goes out to the victims and their families.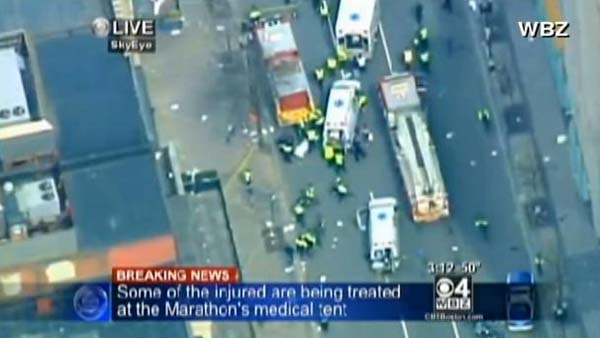 Link: http://www.kpho.com/story/21982414/reports-of-explosion-at-boston-marathon
____________________________

on April 15th 2013, 1:12 pm
The death count has reached two, so far...

____________________________
Follow me on MiiVerse: NINTENBRO82
Guest

Guest

on April 15th 2013, 7:16 pm
At least three people, one of them an 8-year old child, are dead and more than 130 injured. Of those injured, 17 are critical. Why ppl just can´t live in peace?
This sad news item has been widely covered in The Netherlands, too. Links:
Telegraaf
NOS
NOS 24 Live
on April 15th 2013, 8:00 pm
____________________________
Chromaicora - The new home of Zed and pals!
***
The pilot of
Power Rangers Mushroom Force
is currently being "filmed" on location in One-One Plains, but there's still time to claim - or reclaim - a spot in the series.
Anyone who wishes to reprise their roles should let me know as a response to any post I make. Anyone who wants an unclaimed role should do the same. And remember, the more you chat about the show, the more motivated I am to pump out new stories every week!  
CLICK HERE
to sign up for a role, chat about your favourite episodes and characters, or simply find out more about the series.
"Mushroom Force, Let's-a GO!"
on April 15th 2013, 8:27 pm
Hmm, it's difficult to know what to say in situations like this. I suppose it shows us how precious life really is and how it can be taken from us quite unexpectedly. :-(
on April 15th 2013, 8:34 pm
Air traffic has halted across the US, hopefully people won't be unable to get back home from whatever business or vacation trips they were on.
____________________________


Permissions in this forum:
You
cannot
reply to topics in this forum