SkywardL

Admin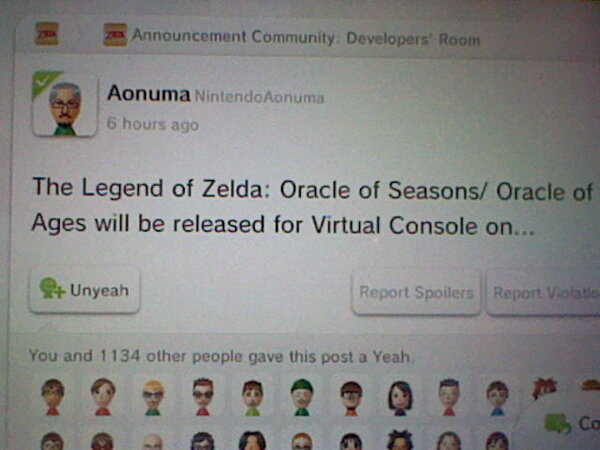 Notification is done right on Miiverse with a new community attach to the latest The Legend of Zelda series community. Go to "Other Communities" next to the Zelda one and there you'll find the Announcement Community (Developer's Room) for that series.
The first announcement from Miiverse about Zelda is that both Oracle of Seasons and Oracle of Ages will be available on the 3DS Virtual Console soon. Japan regions will be the first and the rest soon will follow. To view the announcement entirely, instead of the latest reaction from Wii U owners, or in other language then go to "Showing all comments".
Expect more Zelda announcement (such as more info on Wind Waker HD) from Miiverse in the near future.
Last edited by SkywardL on February 21st 2013, 12:10 pm; edited 1 time in total

____________________________
Twitter
Wii U NNID: SkywardL
3DS Friendcode: 1590 - 4719 - 1381
Permissions in this forum:
You
cannot
reply to topics in this forum