Towafan7

Admin

The NES Lives On!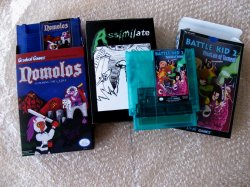 Nintendo just released the Wii U in November, but that doesn't mean that the company's first home console the NES has been completely forgotten. Believe it or not software is still being produced for the 8 bit console.
Battle Kid 2: Mountain of Torment, Assimilate and Nomolos: Storming the Catsle are three games which you can buy right now and come with NES packaging and on a physical cartridge, just like the old days!
Are you interested in any of these new NES games? Let us know in the comments below!
____________________________

Permissions in this forum:
You
cannot
reply to topics in this forum